We just got back from our Latin America adventure and are currently in Chicago.
In a few days we will be off to Switzerland to begin a new chapter. It's a sweet and sour time. It's sad to leave the US behind but we are both excited to see what the future holds for us in Switzerland.

Here are a few more pictures from Ecuador, our last country in South America before we went to Central America. From northern Peru, we went to Puerto Lopez on the Pacific coast. This is a small pleasant fishing village that got popular for whale watching and due to its close proximity to the Isla de la Plata.

Early in the morning we went to the beach to watch the fishermen come back home and unload the fish.



Buckets after buckets get carried to the shore.



The fish gets sorted and cleaned right on the sandy beach and prepared for shipment with small trucks to the markets throughout Ecuador.



Here the employee from the wholesaler (yellow rubber boots) takes measurements of the hammer head sharks.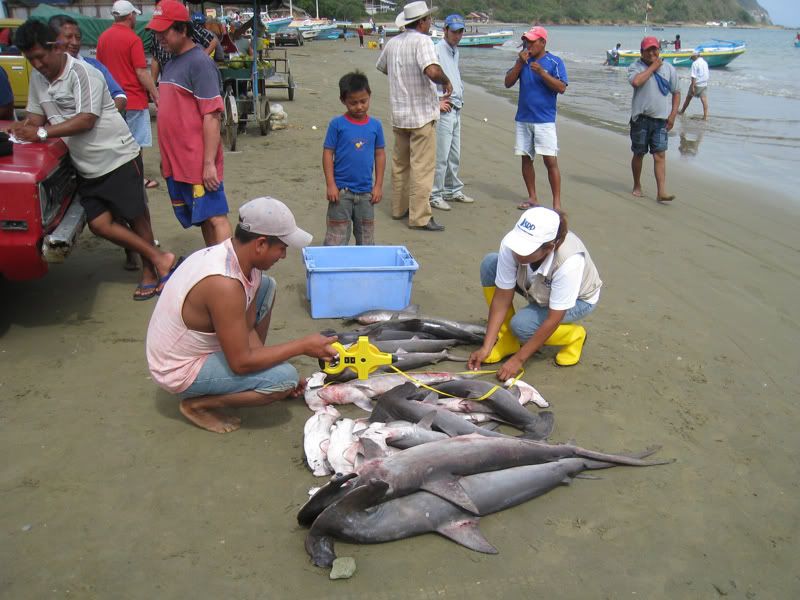 The hammerhead sharks are often caught by fishermen, but they are an endangered species, and in many other countries they are released back into the wild. Even though conservation groups are calling for urgent measures to set limits on shark catch, fishing for sharks in international waters is unrestricted and I guess in Ecuador they still keep them.

Shrimp



Buckets full of funny looking skinny fish.



This guy had one of the bigger catches of the day.



And then it was also my birthday in Ecuador…. already 33…. getting older, but still enjoying life!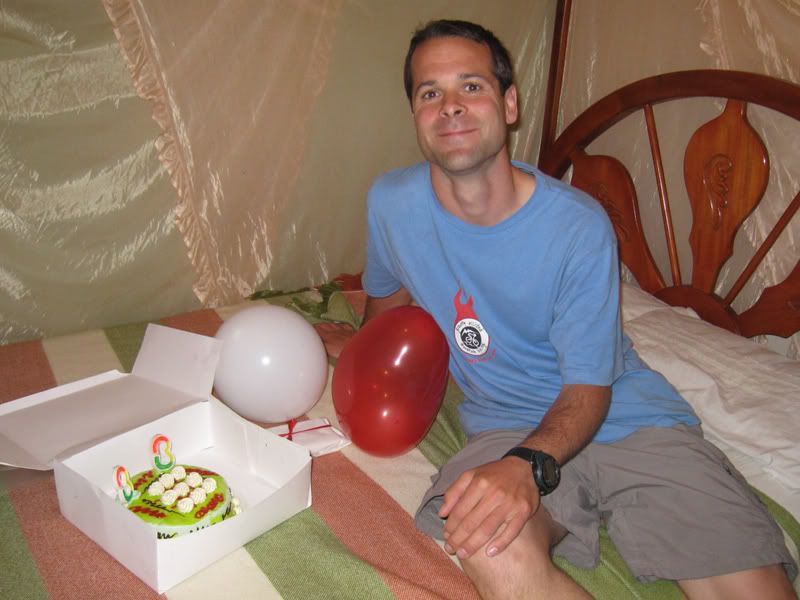 What better way then enjoying the B-day with a sunset at the Pacific…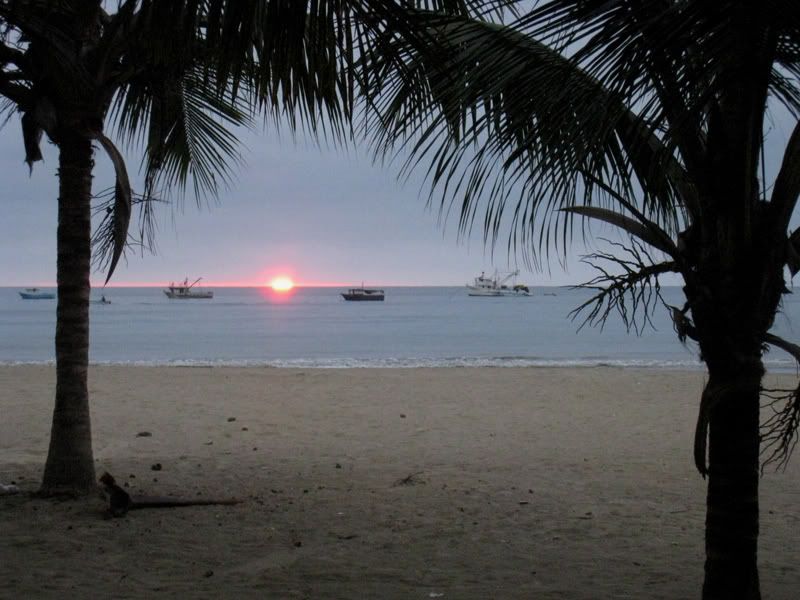 … and having a tropical drink in hand.



The next day we headed out on a hump-back whale watching tour. We met fishermen on the way and they pointed us in the direction where they just saw a few whales about 10 minutes earlier.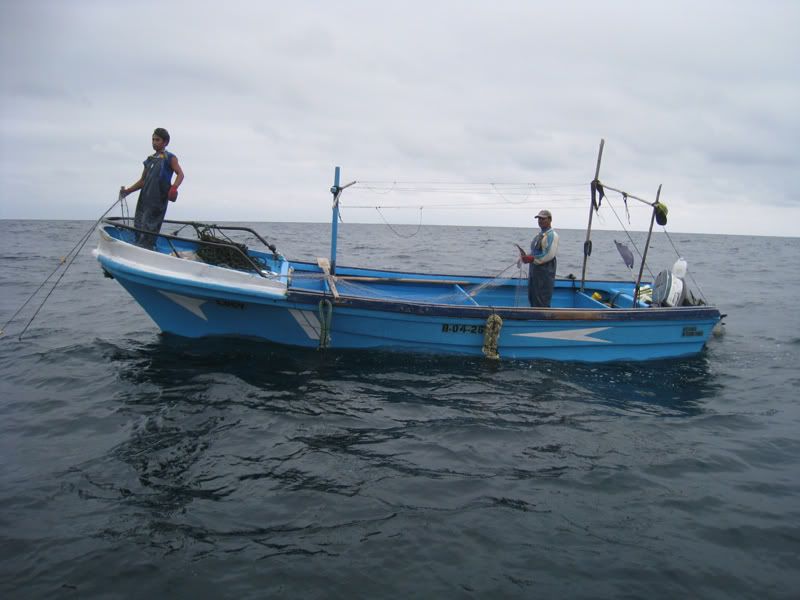 It did not take too long before we found them. They usually hang out in groups and come up quite often to get air.



Every once in a while it seems they just play around for fun. Two times we saw them fully jump out of the water; however it's quite hard to get that on camera. Here for example I am just about a second too late with the shutter and you only see the big splash.



Lots of times they were really close to the boat.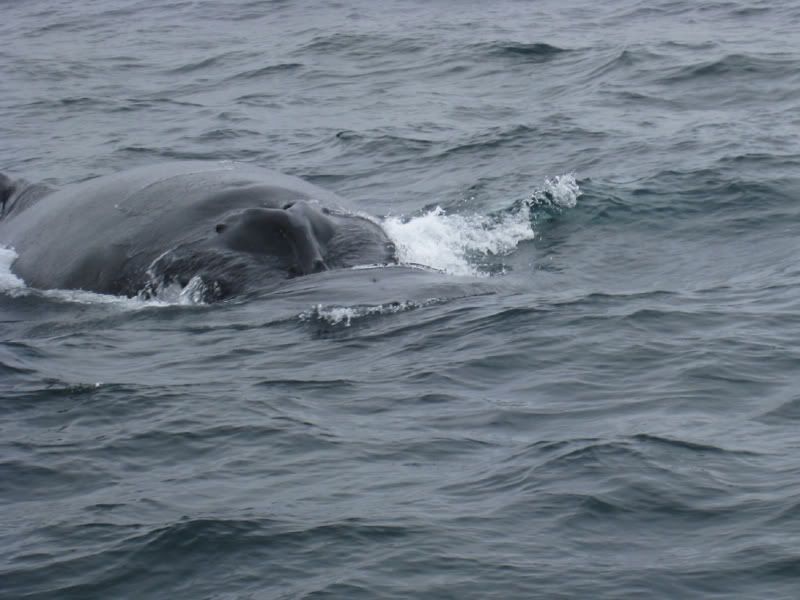 This guy is flapping with his fin next to another tour boat.



This couple swims in full synchrony.



One day we went on an excursion to the isla de la Plata. This island is the "Galapagos for the poor". Even though it's not as impressive as the Galapagos Islands you can find quite a few species that are usually only found on the Galapagos.



Here is a couple of blue footed boobies.



We can't remember anymore the name of this bird, but they are extremely tame and like to just hang out in the middle of the trail.



Trying to keep its egg warm.



We could watch a sea lion hanging out on the beach below us.



The waved albatross is a highly endangered species and we were very lucky to see them. You can't tell by the picture, but this is a very large bird, with a wingspan of 11 feet!



After the visit on the island we went snorkelling.



And on the way home we met another group of whales who put up quite a show next to our boat.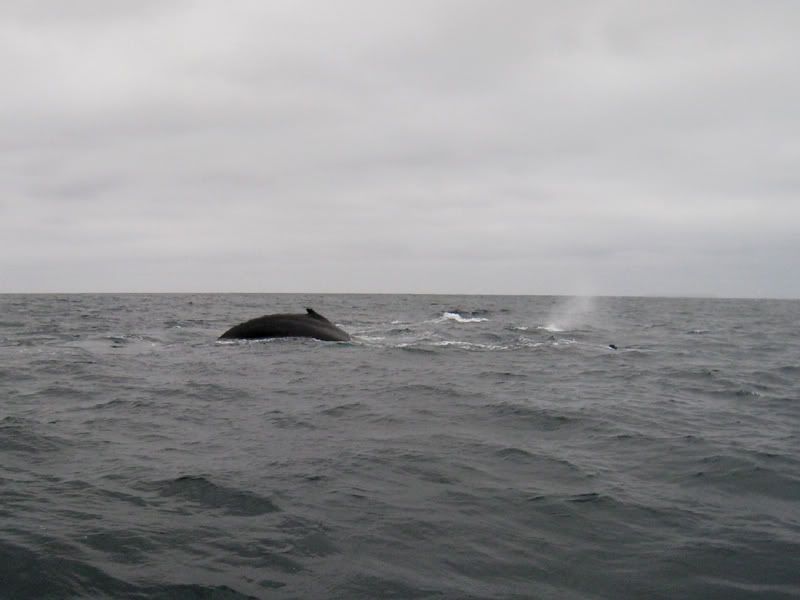 From the Pacific coast we went inland to see some volcanoes. The Quilotoa crater is a great place to see a crater from close up and it is actually surrounded by several snow capped volcanoes. However, there were always some low hanging clouds during the days we spent around the crater and we never saw a snow capped volcano.



The view from the rim towards the south.



A curious alpaca.



The mode of transport in this rural area is by "camionetta". This is a pickup truck taxi where everybody piles in the back.



When we were heading north towards Quito we came past the volcano Cotopaxi. This would be a nice symmetrical snow capped cone. However the clouds did not wanted to lift and the peak stayed again under thick cover.



The next stop was Otavalo. This town is famous for the largest Saturday market in all of South America. However, first we witnessed a special soccer night. Liga (soccer team from Quito, Ecuador) was playing in the Maracana stadium (Rio de Janeiro, Brazil) against Fluminense in the Copa Libertadores final. This is comparable with the Champions league final in Europe. Expectations were high when I took this shot at the opening of the game.



Here the celebrations begin. Liga just won the Copa Libertadores as the first Ecuadorian team ever. It was quite a historic moment for whole Ecuador, and they celebrated accordingly.



Some are going for a victory bath in the water fountain.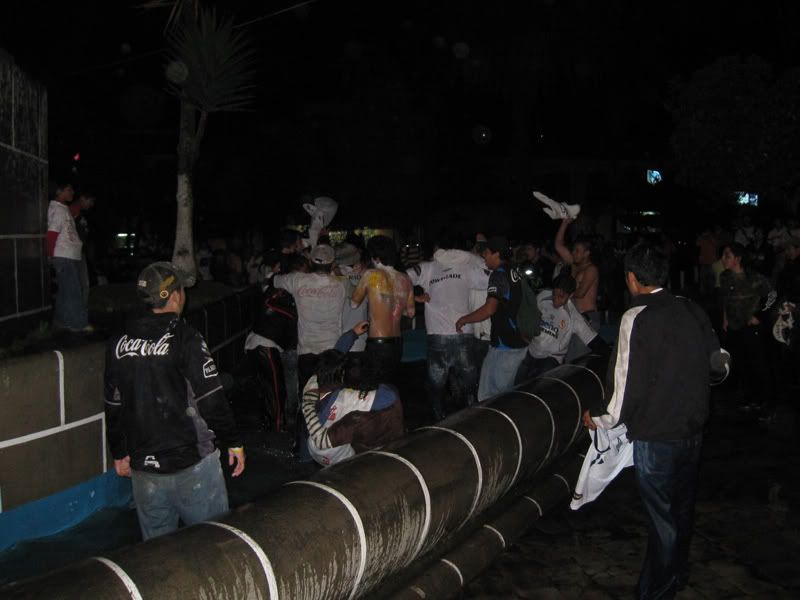 The streets were jam-packed with honking cars and celebrating people.



The region around Otavalo is well known for its colourful fabrics. We went to the Andrango family for a demonstration in back strap weaving.
Here she shows us how they spin the wool to yarn.



The native women are wearing some of the nicest dresses we have seen during our time in South America. The long dark skirts, nicely embroidered white blouses, shoulder wraps, and gold necklaces make a very pretty outfit.



Here she is showing us how the back strap weaving exactly works. It is a slow process but makes for a very nice fabric.



Not everything is done in manual labour. Here they fabricate hammocks with a weaving machine. However it is also one of the older models out there.



Some kids we met on the street. They were very happy when we gave them some cookies.



The view on our walk to the Lago San Pablo. The clouds are still hanging low and the top of the mountains are hidden.



This is a traditional method of threshing to get the cereal grain separated from the inedible chaff.



Every Saturday there is an enormous market in Otavalo. This is a view from the balcony of our hotel onto plaza de ponchos.



We started the day at the animal market.



All types of animals are being offered. From small chickens...



...to large chickens...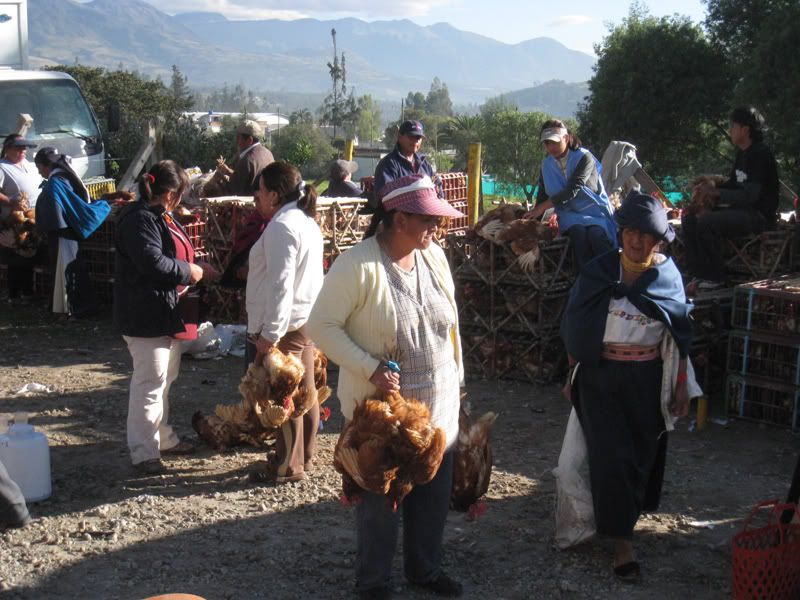 ...sheep...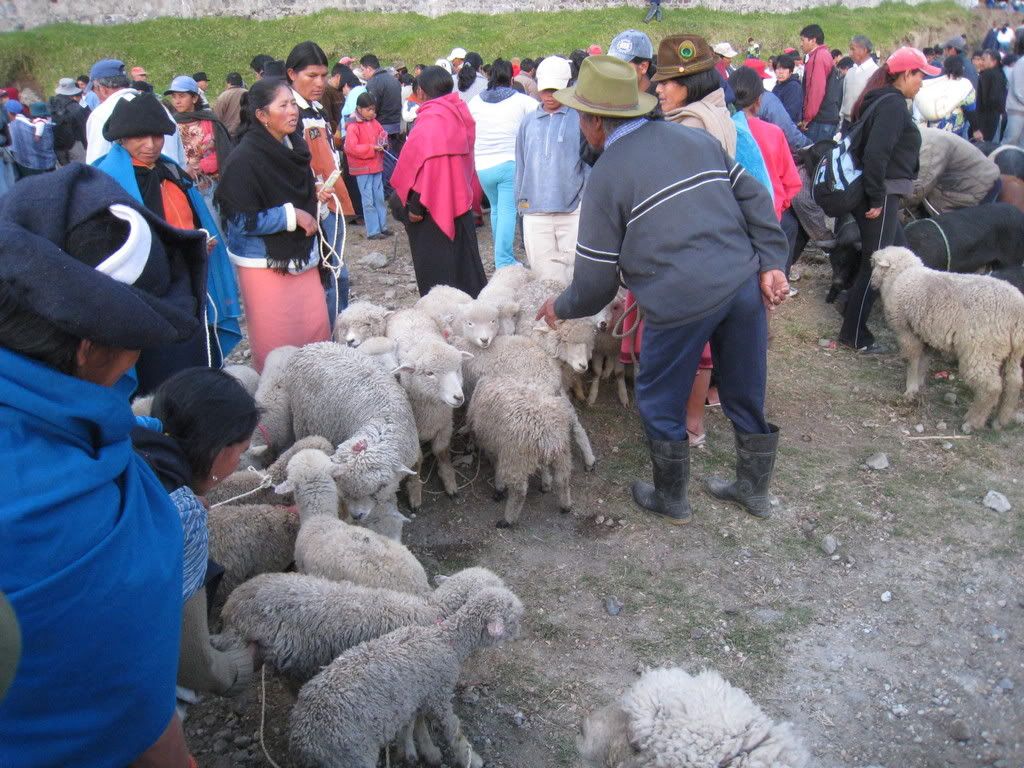 ...pigs...



...and cows.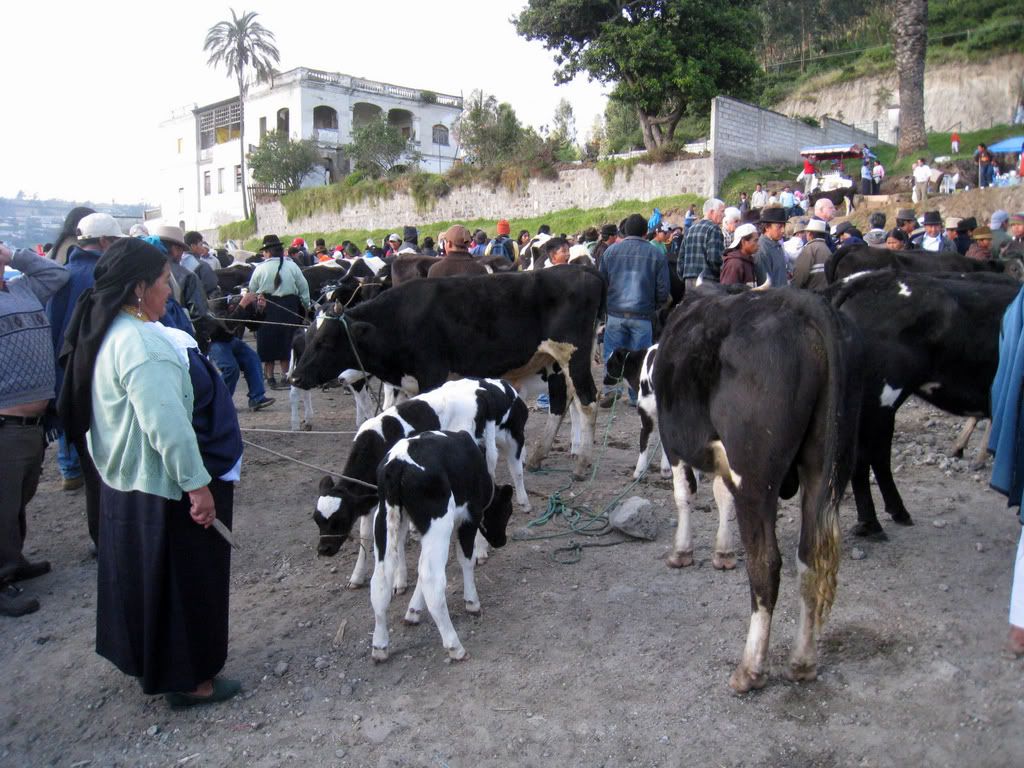 Men wear their hair long and plaited under a hat. They wear white calf-length trousers and a blue poncho.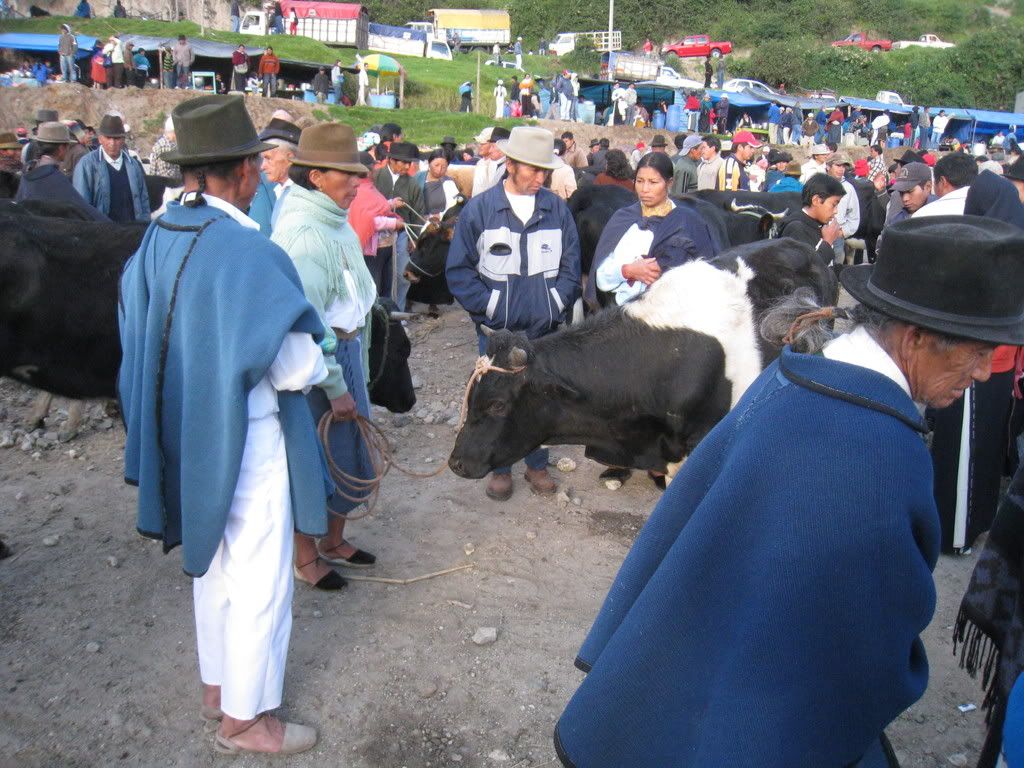 A woman taking her purchase home.



After the animal market we went to see the produce market.



Eggs anyone??!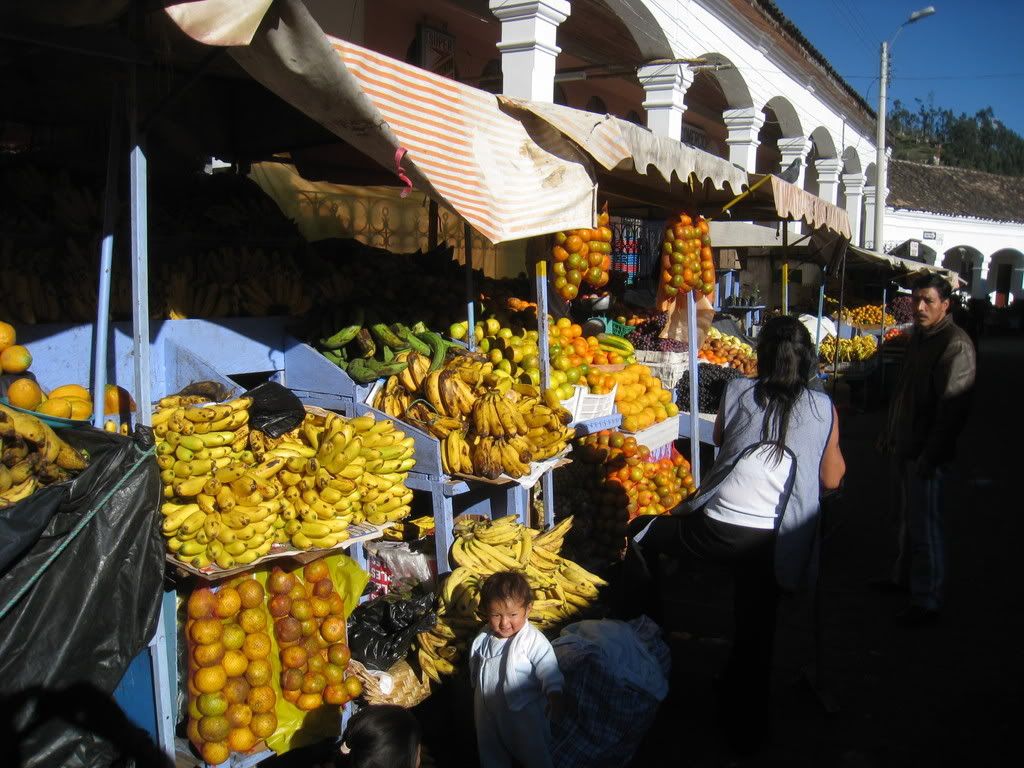 On the meat market are always some "special things" to be found. Like here a pig head...



...or chicken heads and legs.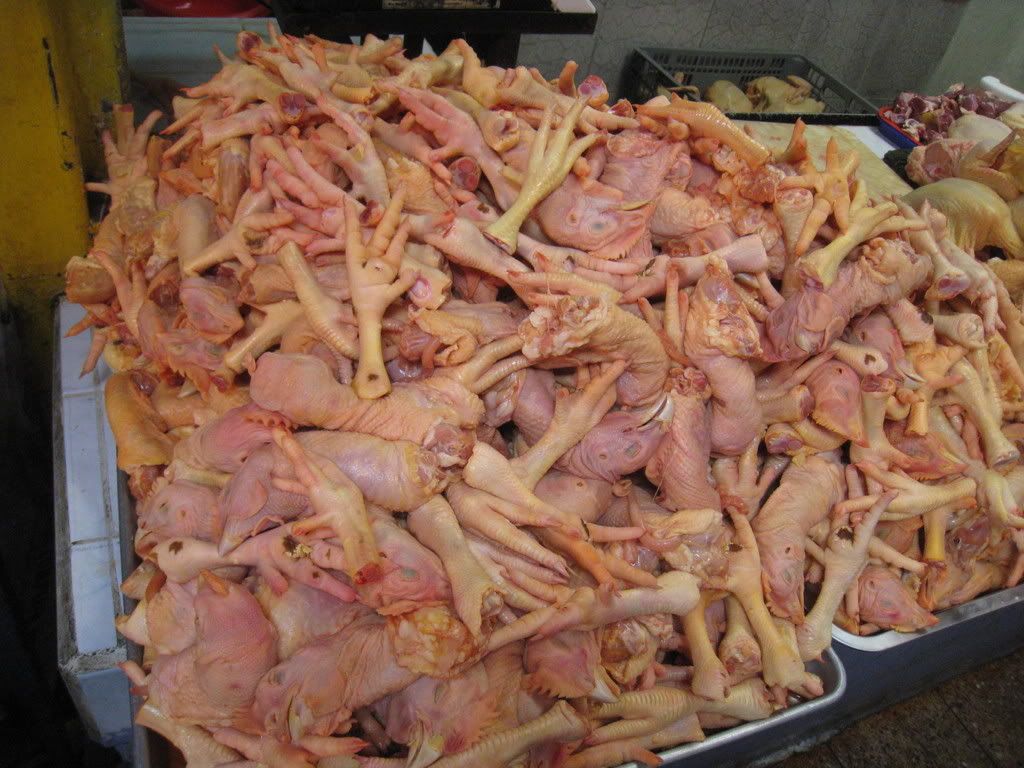 This is a typical street scene. Chickens get carried around live by their feet. Seems cruel to us, but it's part of normal life around here.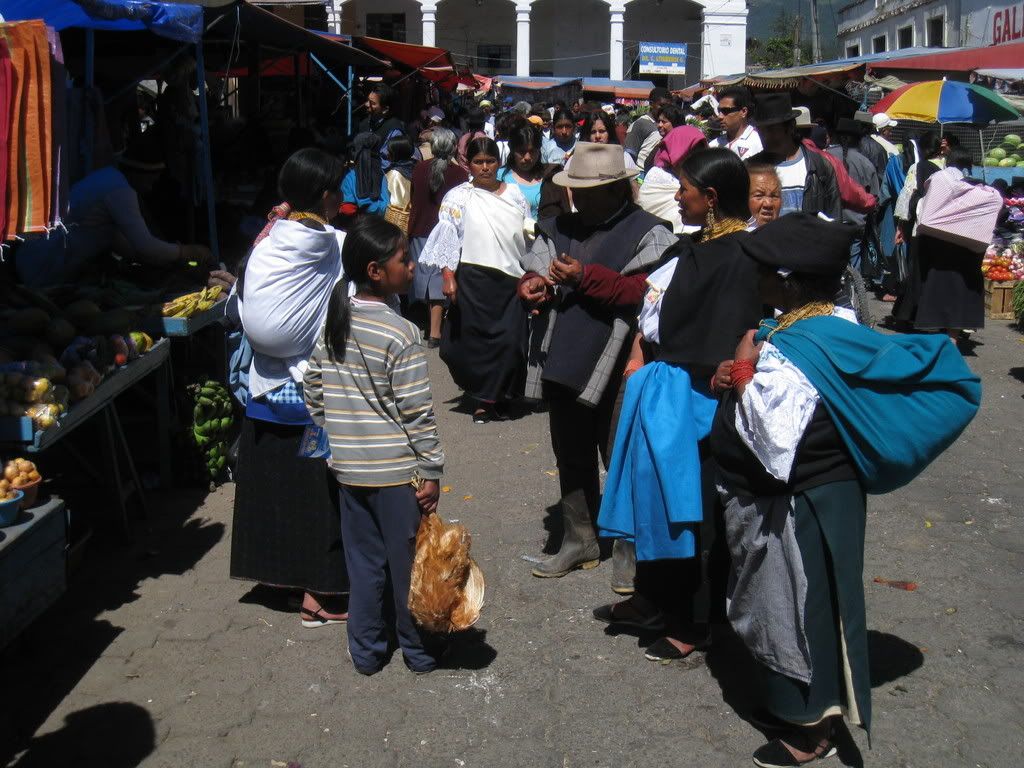 We usually ate on small street stands like this. You can get a large meal for less than $2. The roasted pig tasted great!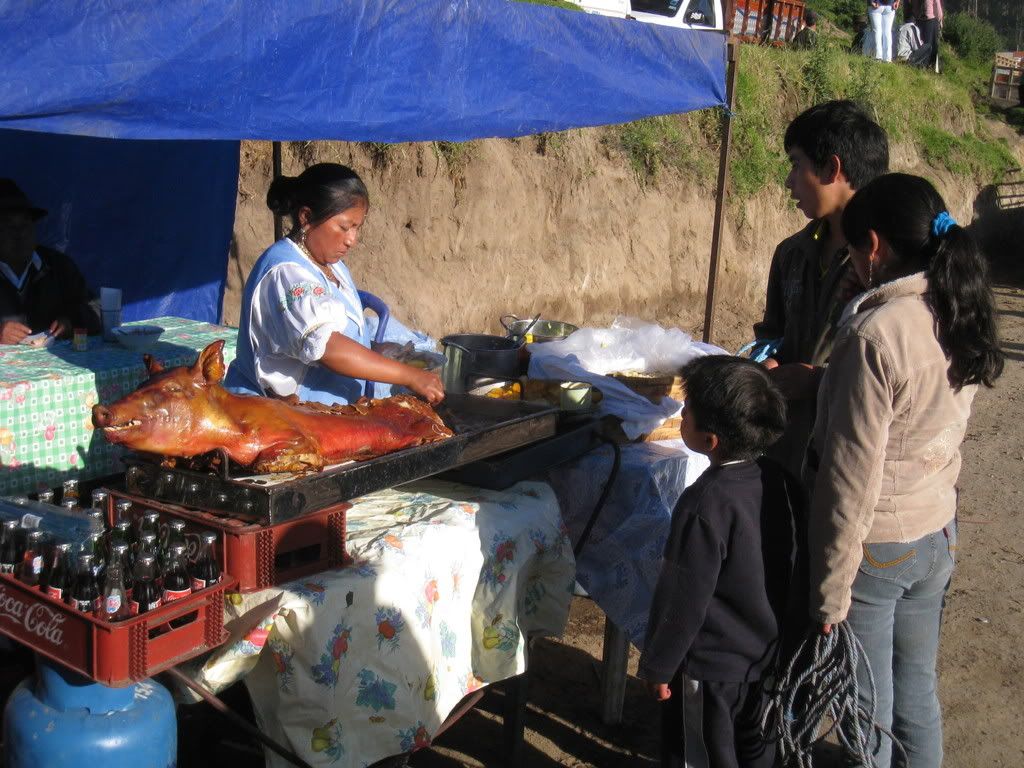 The fried fish was tasty as well.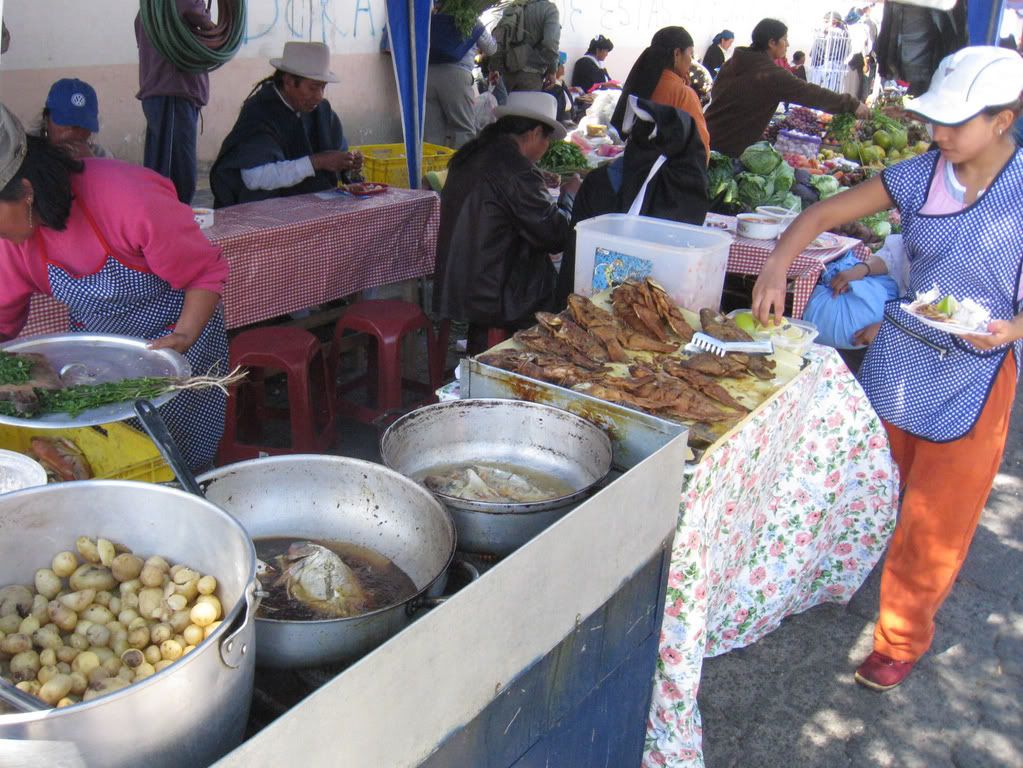 There are hundreds of different colourful fabrics to be found.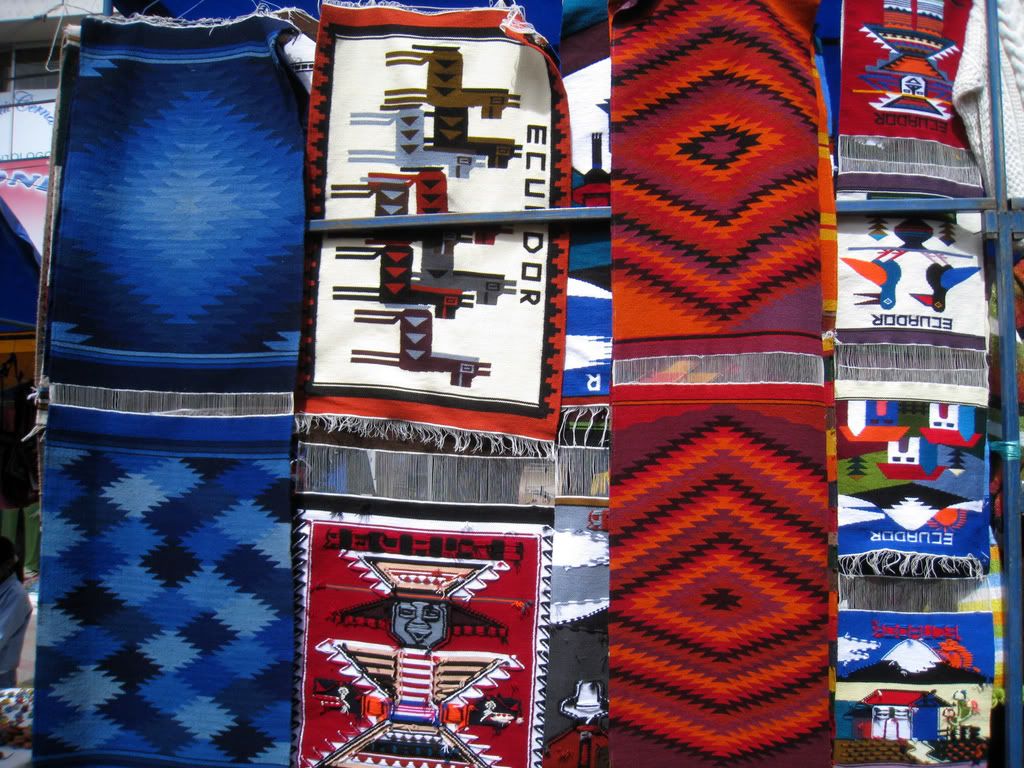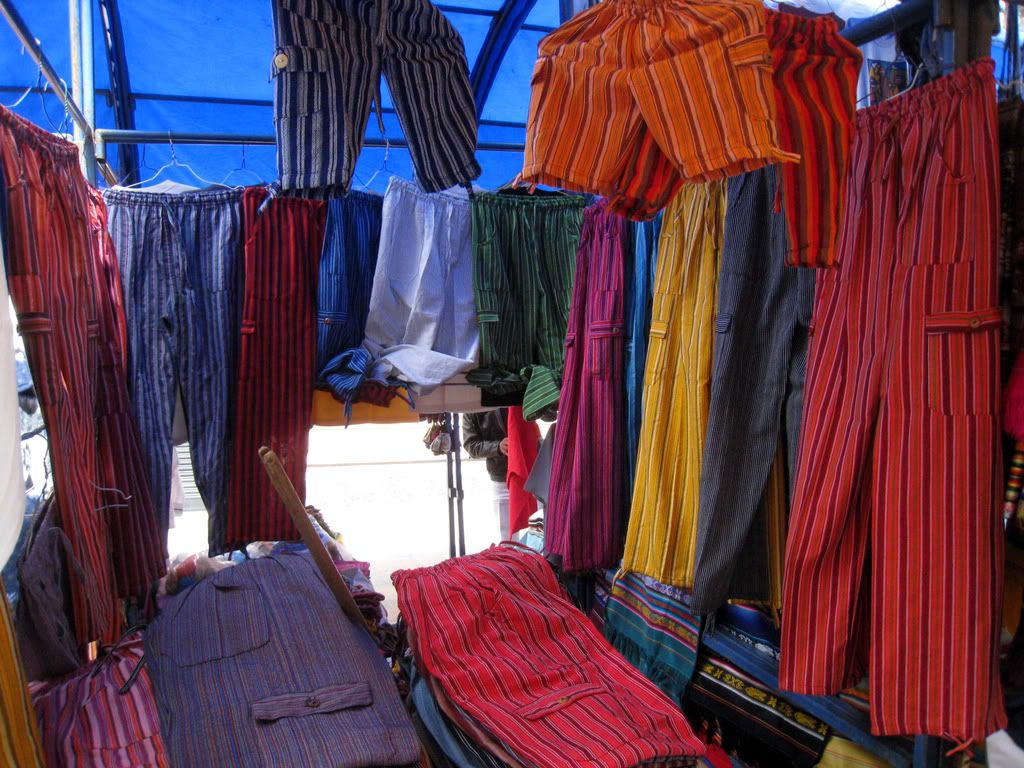 After the market in Otavalo we went back to the capital of Ecuador, Quito. This city has one of the best preserved historic centres in Latin America and was declared an UNESCO world heritage site. Unfortunately it was rainy the days we visited the old centre, but it was impressive nonetheless.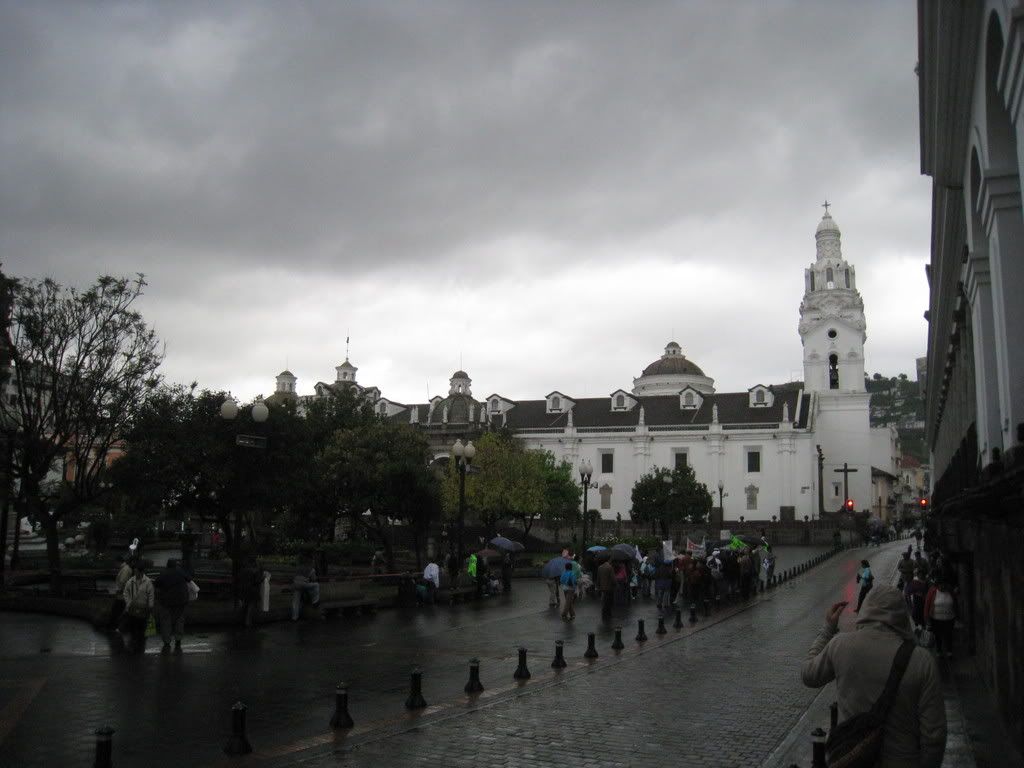 We had a wonderful time in Ecuador, even though we didn't see any of the famed snow-capped volcanoes. We also had one more experience in Quito which I would like to share. There is an unfortunate reality of travelling to third world countries; poverty and crime. Unfortunately, we were a victim of the latter. After travelling for 5 months and never felt threatened, we became a bit relaxed in Ecuador. The Ecuadorians were the nicest people we met on our entire trip and they did not want or expect anything in return. We felt very at ease and that was our downfall. After an evening meal at a Swiss restaurant, we decided to work off the Raclette by walking back to our hotel. We walked to the restaurant that afternoon, which was located in a very well to do area in a very upscale shopping mall. Typically we would take public transportation or a taxi in the evening hours, but the wine and cheese had its effect on us. To make a long story short, as we were walking back we were held up at gun and knife point by 4 youths. They cornered us and began rummaging through our pockets. Since we were not far away from a busy street, some cars stopped and honked their horns which prompted the thugs to move on their way. They did not take anything, since our money was kept in a secret side pocket, but Oliver's pants got ripped during the scuffle. Although what happened to us can happen in any part of the world, it just made us both realize that personal safety should always be in the forefront. We did leave Quito in somewhat a melancholy state, but were thankful that we left unscathed.

Our last view of Quito from our flight to Panama.




And here again is a quick view of our route:
Best online maps are found under this link: http://maps.live.com/default.aspx?v=2&cp=-18.39623%7E-61.523438&style=r&lvl=3&tilt=-90&dir=0&alt=-1000&cid=2CF1823075161E3B%21106&encType=1 or check the simple Google map below.