After the 2 weeks in Venezuela we crossed over land into Brazil.
Here we just leave the last Venezuelan military checkpoint behind us. Those checkpoints were everywhere to be found. I assume Chavez is trying to keep a tight grip on things.



The gas is virtually free in Venezuela and in Brazil the prices are comparable to Europe.
For example, one time our Venezuelan tour guide paid about US$ 1,00 for 55 liters (= 14 gallons). Needless to say that there can be made quite some money with smuggling gas into Brazil.

Our taxi driver also filled up his tank to the rim and as soon as we were across the border some gas was pumped out and sold off to someone. Here they are in full action:



It turned out that our driver was tired from working all night and felt more like taking a nap than driving us to Boa Vista. He asked me if I would like to drive. I politely declined since I did not really feel like competing with other Brazilian drivers for the Grand Prix price on the bumpy roads. (Everybody here thinks they are related to Ayrton Senna or something and like to show it with their fast driving) However after rethinking I figured my driving will still be a lot better than having a fatigued driver on the steering wheel and therefore I drove most of the 2hour drive to Boa Vista.




In Boa Vista we took the 12hour night bus on the potholed filled road towards Manaus.
We actually stopped about 100km north of Manaus and spent 2 relaxing days in Presidente Figueiredo, where we visited some of the nearby caves and waterfalls.



Afterwards we went to the Amazon capital Manaus.
Most impressive in this city is definitely the port area and the market.

Here is the Banana Market



Shrimp anyone?



Hundreds of different fishes can be seen. Some of them are actually still alive when they are on those tables.



There are also dozens of the Amazon Ferries waiting in the port. You can book a cabin or just hang your hammock and get in 4 days down to the mouth of the Amazon in Belem.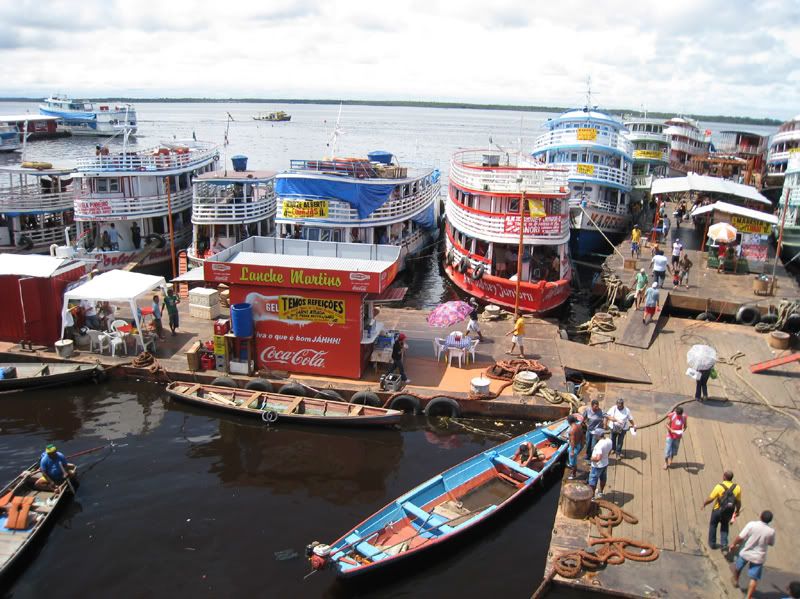 Now that´s a strong man!



All types of vessels can be seen up to the large ocean vessels.



Anything imaginable is being transported up and down the river



We hired a local fisherman who gave us a quick trip to the confluence of the Rio Negro and Solimoes. Here the cappuccino and the black water meet. We were also lucky to sight some river dolphins.



The Amazon theatre in the centre of Manaus, which was built during the rubber boom.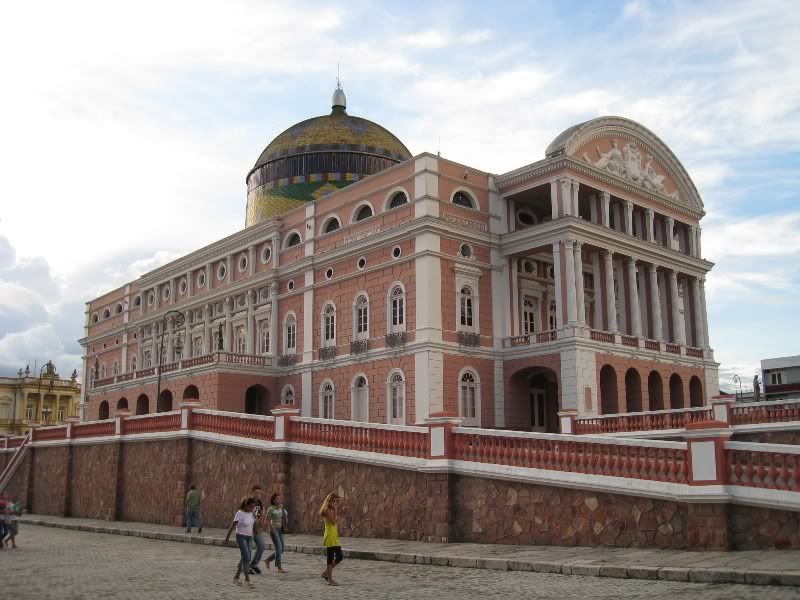 From Manaus we took a super-pricey flight to Salvador on the coast. This is the town of churches.



The look over the bay



One of the days they had a regatta and it was quite interesting to see them all taking off.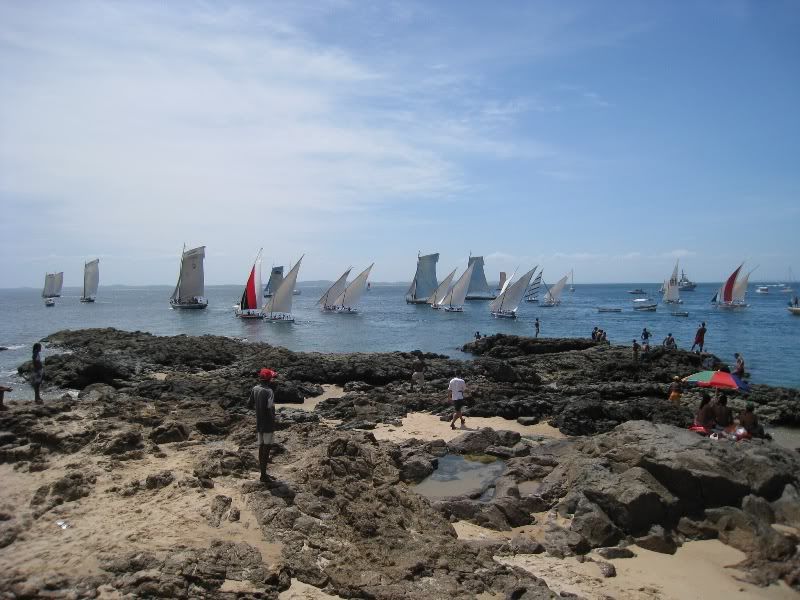 After Salvador we went down the coast to the nice beach resort of Trancoso.
There we just took it easy for a few days and relaxed.
SIESTA!!!



The beaches there were almost empty and you could walk for miles and miles with almost nobody around.



Some bananas we found on the way. Unfortunately not ripe yet for us.



A long 18 hours overnight bus ride brought us to Rio de Janeiro.
18 hours on a bus are not much fun; especially if you can not sleep like me (Oliver). But you can survive it.
You just have to do it from time to time since the flights in Brazil are usually way more expensive than buses.

Finally we are there on Ipanema beach



Surfers and their playground right in the city (Ipanema beach)



Copacabana Beach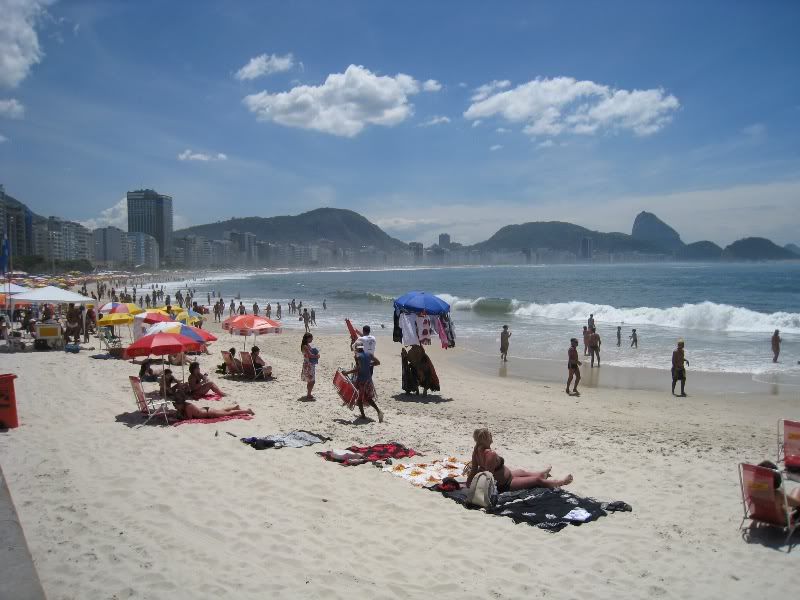 Even McDonalds must have a location on Copacabana beach



We were in Rio over the weekend when Flamengo played. Luckily it was played in the Maracana stadium.
Lots of football history happened in this stadium. (Pele scored his 1000th goal for example)



Too bad it was not a very important game and therefore the stadium was not even 1/3 full. But it was still fun to be in the middle of the small group of Flamengo fans.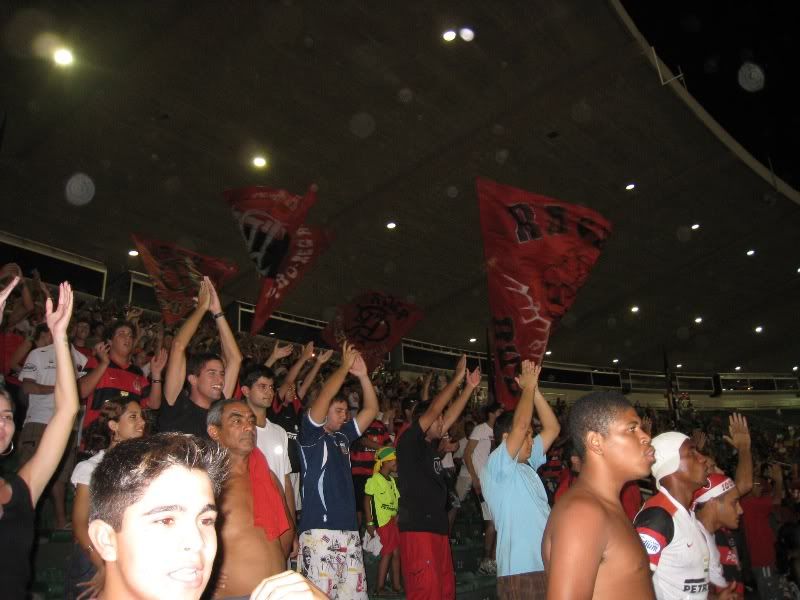 As most people do in Rio, we also visited the Sugar Loaf mountain. Most people take the cable car all the way up. We thought we have to work off some energy and hiked to the middle station.



From up there you have a great view on the city and can see nicely how it grew between the mountains. A marvelous setting with all the beaches and mountains.
Look down to the Copacabana beach.



Botafogo Bay



Looking North



We visited also the Santa Tereza neighborhood. You can get there with an old tram. If you hang on the outside you do not have to pay.



Some nice villas are hidden on the hilltops behind the palms.



Unfortunately the time went by so quick and we already had to leave this great city again.
But we will try to return to it sometime in the future. We both liked it very much.

After a few days on Ilha Grande we are currently in Paraty. I will post pictures from after Rio in a different post.
Our route: