Here are some pictures from our visit to the central coast of Peru.
From Cuzco we took the bus to Nazca. The ride from the highland to the coast takes you through spectacular scenery. You cross through fertile valleys and come past high mountains. Here is a shot from the bus.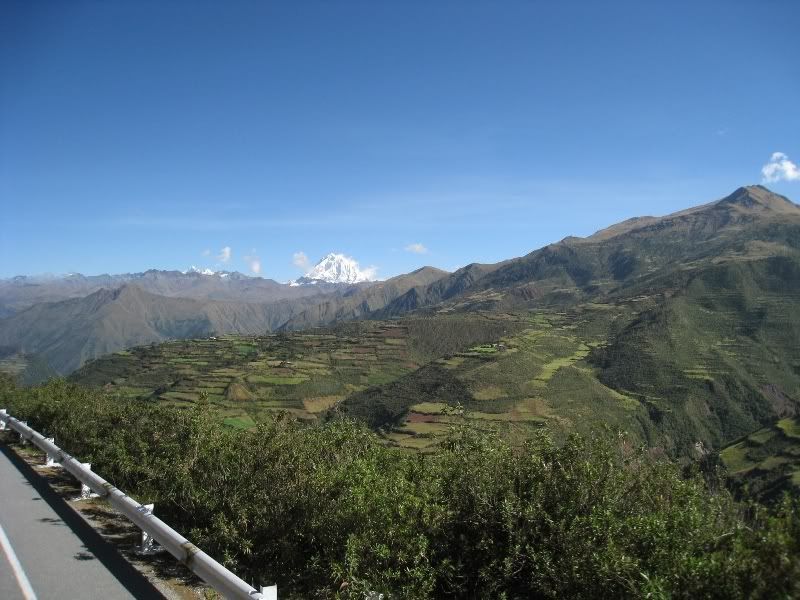 A close-up from the mountain I can not name, but I still thought it looks pretty good.



More farming land (a bit drier as we come closer to the coast)



In Peru there are more than 3´000 different varieties of potatoes. However a pile of potatoes does not really make such a nice picture so I opted for the corn. There is a lot of different variety of corn, and here you see them laid out in the sun so they can be dried and then used for the winter months.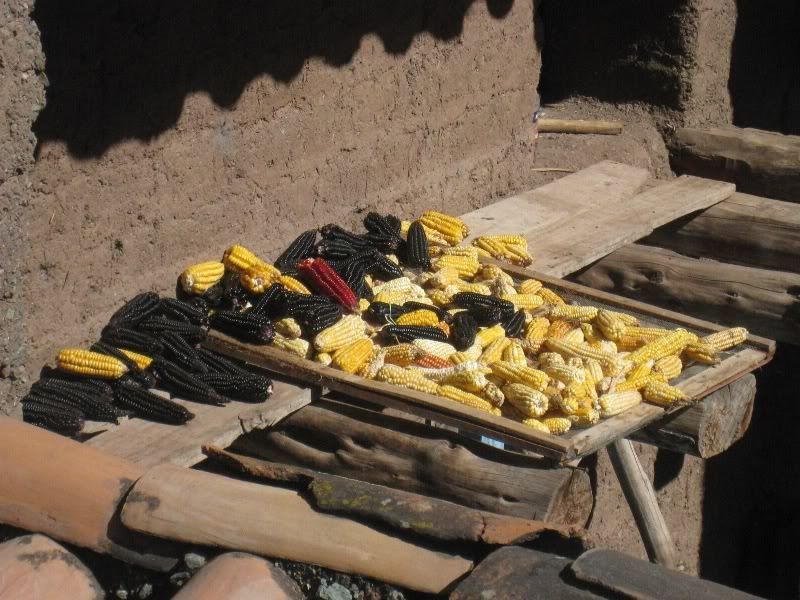 They come in all different kind of colors.



Peruvians also love to eat chicken. You can find a chicken place nearly at every corner. It´s usually slowly grilled over charcoal. It´s very juicy and tastes yummy!



Though every once in a while you get a bit surprised by the chicken. Just like here when you find a chicken foot in your soup!



Instead of going to the grocery store people buy their produce mostly on the markets or on street stands like this.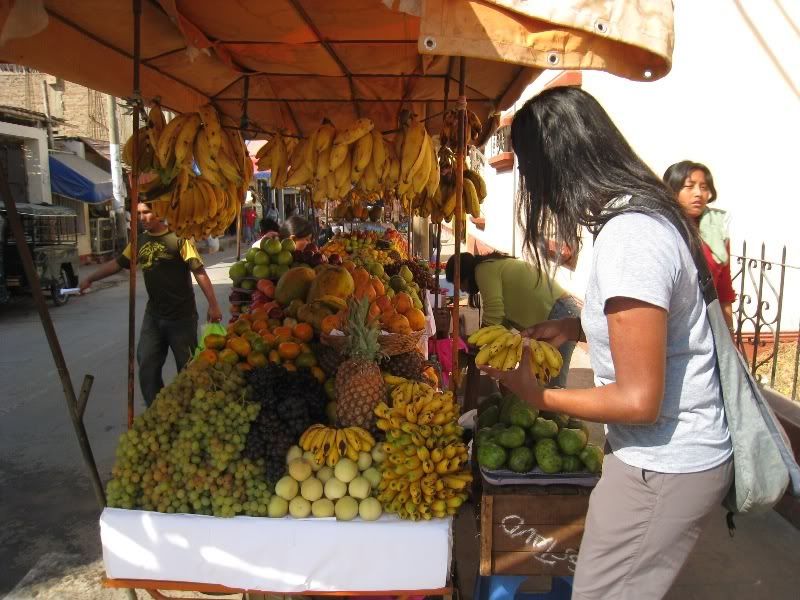 We went to Nazca to check out the famous Nazca lines. These are a series of figures and lines that have been created by the Nazca culture between 200 BC and AD 700. Why the figures have been built remains a persistent mystery. Several theories exist. Some say that the Nazca´s people motivation was religious; that the images were constructed so the gods in the sky could see them. Some are trying to find an astronomical explanation. Either way... it is quite astonishing that such a long time ago people could make those figures and lines with simple tools.
It would be best to see the figures by little airplane. But just a couple weeks before we arrived in Nazca one of those airplanes crashed and later on some serious issues with the maintenance of the airplanes were discovered. Having already strained our travel budget we opted for the cheaper version and just checked out a few figures from the outlook and a nearby hill.

Here are the "hands" as seen from the outlook.



This is a "tree" (not the best angle, but you can recognize it).



Most of the Peruvian coast is very dry. This is caused by the Humboldt current that brings cold water from the south up the coast. This in turn causes the wind to blow from the land onto the Pacific and dries out the coast line.
The area around Nazca is especially very desert like and there are some huge sand dunes.
This is the Cerro Blanco sand dune as seen from the terrace of our hotel.



This is one of the highest sand dunes in the world at 2080 meters and there you can go sandboarding. Being a big snowboarder I always wanted to try out the sliding on sand.
After an early wake-up call before 4 AM I went together with a guide up to Cerro Blanco. (Jaya opted to stay in bed)



Sunrise just a bit after 6 AM.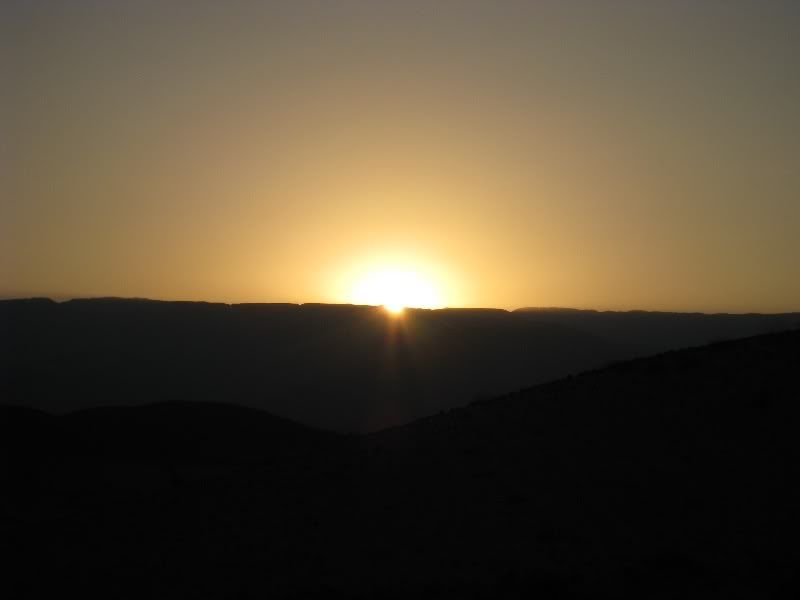 For once a different type of skin track my guide is putting in.



Views to the north.



One of the thousands of Peruvian potatoes. Who would have thought they even grow on sand dunes?!



… and up and up we go.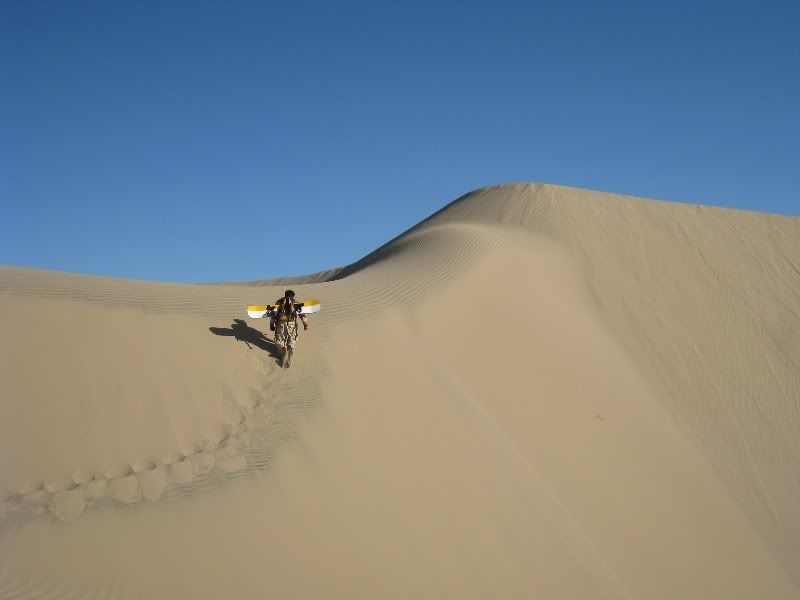 Finally on top!



We actually even had to wax the boards.



View from the top towards Nazca.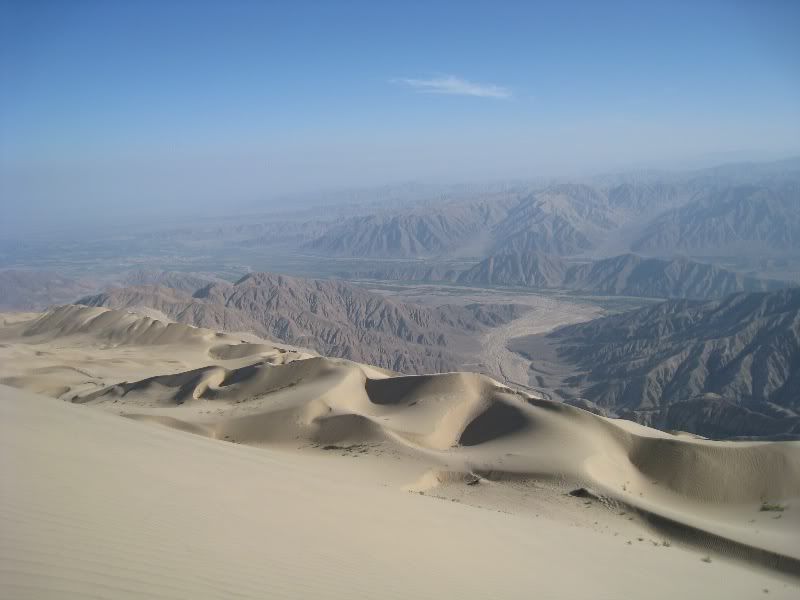 First cautious turn.



The guide shows how it's really done.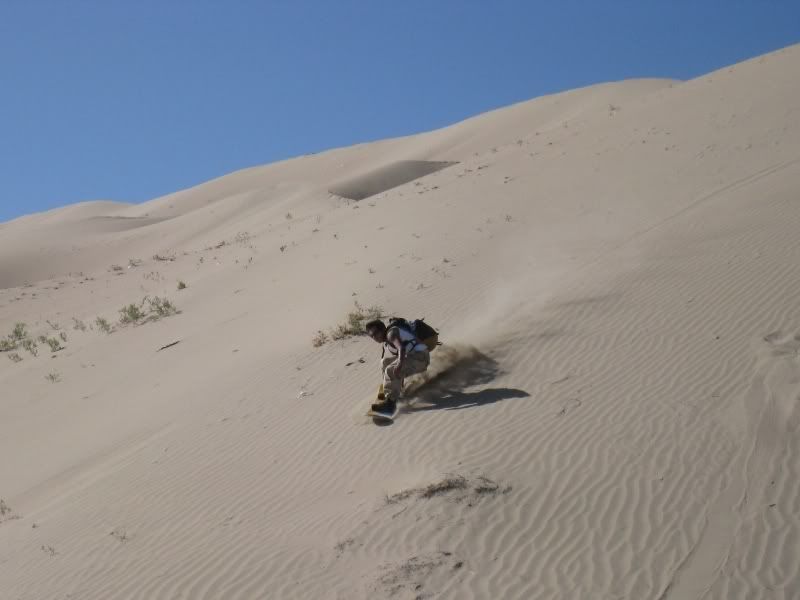 Another 500 vertical meters to go.



OK, this is already looking a bit better!



Looking back at the face we came down.



It was a very cool outing. The hike up through the dune landscape was especially impressive. However, I still prefer the sliding on snow; it´s just a lot smoother. Sandboarding involves quite a bit more work to initiate the turns.

After Nazca we headed north up the coast to the capital Lima. Our friends Alberto and Marcelo live there with their son Joaquin. They have lived for several years in Chicago and now back home Lima.

Some surfers enjoying the waves.



You gotta have at least one sunset picture per blog entry!



These are our fabulous hosts. We stayed a whole week in their home and we truly enjoyed the stay. Thanks again to Alberto and Marcela for their hospitality!!!



And the little super man is their son Joaquin.



The cathedral at the Plaza de Armas in the centre of Lima.



Nice wooden balcony at the Archbishop´s Palace next to the cathedral.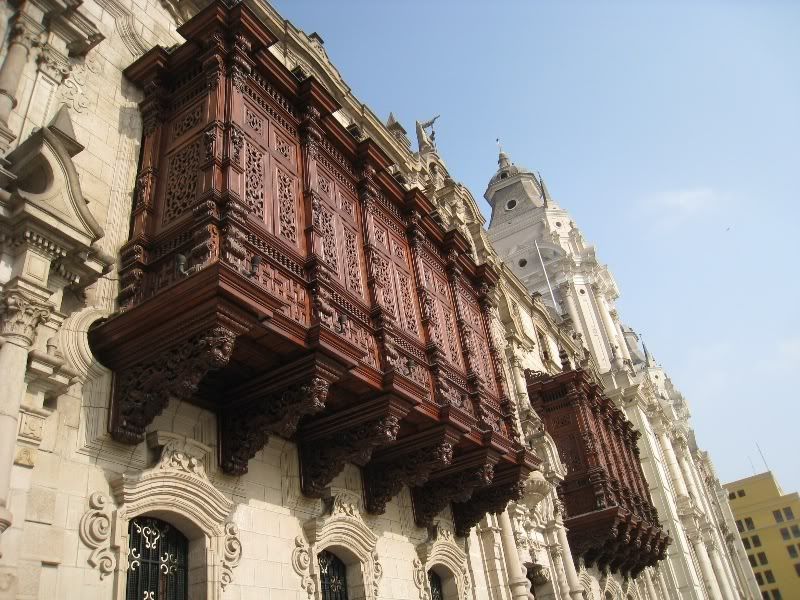 One thing you will notice when you are travelling in South America is that people's risk tolerance seems to be higher than one is used to. Be it the crazy bus drivers who seem to accelerate their already insane speed when you travel through a town or for example this situation. This guy is trying to lock his hatch down. I personally would pull a bit more to the side and lay the other way around. But maybe that is just me. :-)



He probably has full confidence that the Suiza Lab could fix him up if necessary.
(just thought I throw this picture in since I am Swiss)



A good looking crab we saw on the shore.



Being back at the coast meant that we could again enjoy great seafood. Alberto and Marcela took us to a nice little restaurant where we enjoyed a fabulous ceviche. Ceviche is a traditional Peruvian lunch dish. It is prepared with raw chunks of fish that are marinated in lime juice. You then add some hot peppers, onions and cilantro and have a very delicious dish.



Before Bolivia and Peru our diet was lacking some spice. At every meal in Peru we were guaranteed a small bowl of "aji" (delicious hot pepper salsa) and it accompanied the amazing Peruvian cuisine perfectly!

And here again our route:
Best online maps are found under this link: http://www.maps.live.com or check the simple Google map below. (yellow marker indicates current location and blue is what is covered in the blog)