I am sitting here in Switzerland writing this. Somewhat sad, but also excited about what's to come in the future. My wife and I just relocated to Switzerland, the country I grew up.

I have spent the last 8 years in the States. 4 years in Chicago and then 4 in Colorado. It has been an amazing time. From enjoying the single life in Chicago with partying all night, to getting married and moving with my wife to Colorado. There we enjoyed the outdoors to the fullest. Who would not enjoy 300 sunny days and light and fluffy powder?! This Rocky Mountain state really has a special place in my heart.

So it has been a very tough decision to make. But Mother Nature seemed to be with me, because as soon as I put in my notice at work the storms started rolling in and Colorado finally turned white at the beginning of December. Just in time so I could start off my Colorado farewell tour in style.

Day 1: Aspen Highlands Opening Day - December 8, 2007
No pictures from an epic opening day in Highlands, since I was rolling solo and the snow was just simply too good to stop.
It just does not happen too often that you can drop into the Deep Temerity terrain with 3ft of untracked pow. To top it off I made two amazing runs down the highlands bowl and had even first tracks down G-6!


Day 2: Ajax - December 9, 2007
The sun was poking out after several days of snow and the familiar view on top was pretty nice: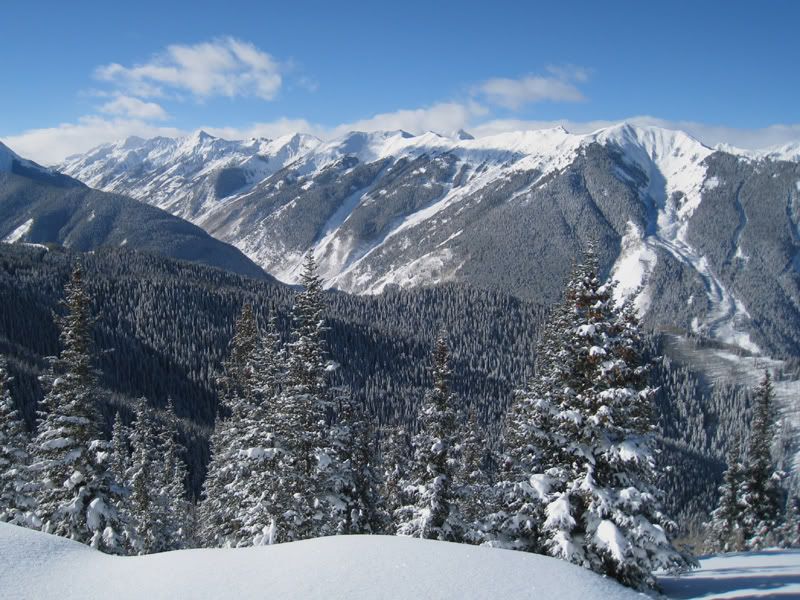 I have no action shots so I allow myself to borrow one:


From Funken's TR: http://www.tetongravity.com/forums/showthread.php?t=104745


Day 3: Snowmass - December 10, 2007
It was now also time to say goodbye to one of my Colorado babies: The new Maroon Creek Bridge. Major construction is almost complete and the bridge should be in service sometime at the end of 2008.




The afternoon was spent on the slopes in Snowmass.
Later on I made my way down to Telluride since they predicted another major storm moving into the SW corner of Colorado.


Day 4: Telluride - December 11, 2007
The storm did not exactly pan out as predicted, but the 8" of fresh were still pretty nice and chair 6 allowed for some great laps.


Day 5: Telluride - December 12, 2007
Wednesday was a long anticipated day in Telluride with the opening of chair 9. It seemed like the whole town of Telluride took the morning off. So the first 2 runs of the plunge chair were good but after that the place was nearly tracked out.

Therefore I took it a bit easier and enjoyed the nice views in the T-ride area.

The Bear Creek Drainage:



Looking north from the ski area:



The Wilson group: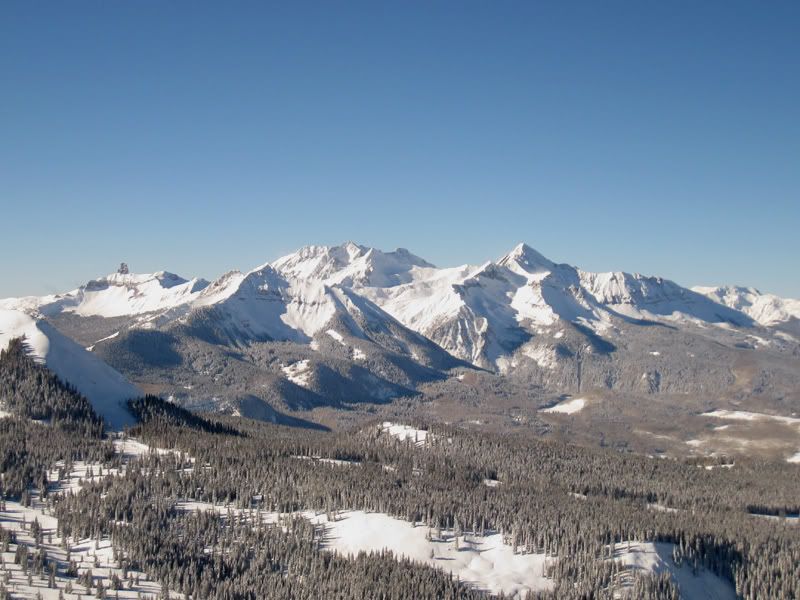 Day 6: Ophir Pass Backcountry - December 13, 2007
The avy danger was high and I was solo so I did no crazy lines. I toured around a bit south of Ophir Pass and was amazed about the potential in this area. The San Juans it's were it's at!!! So many great mountains and lines.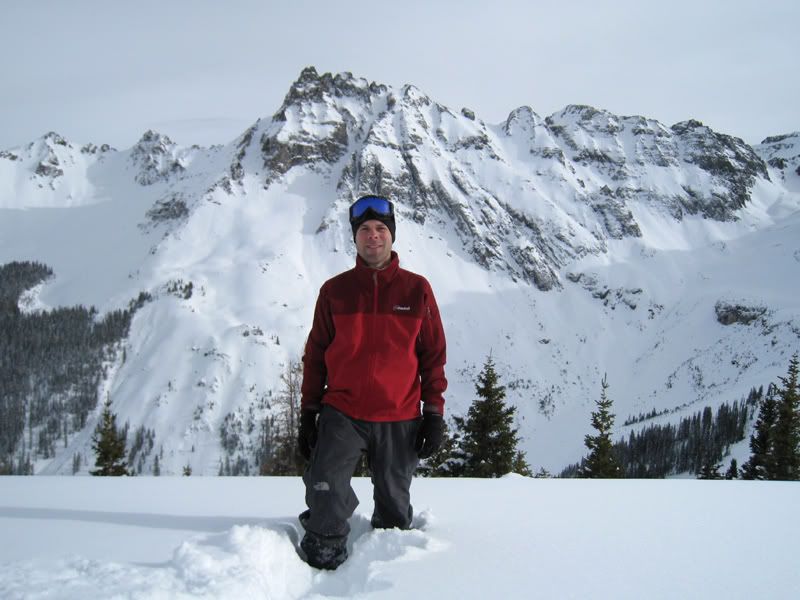 I followed some locals skin track which guided me to a nice area with a 32deg slope:




Day 7: Red Mountain Pass Backcountry - December 14, 2007
On the drive to Silverton I stopped on top of Red Mountain Pass and toured on the east side. I did not really put the best tour together and the weather was not really co-operating, but I still managed to get a few nice turns in.

Some guys tracks:



An old shack: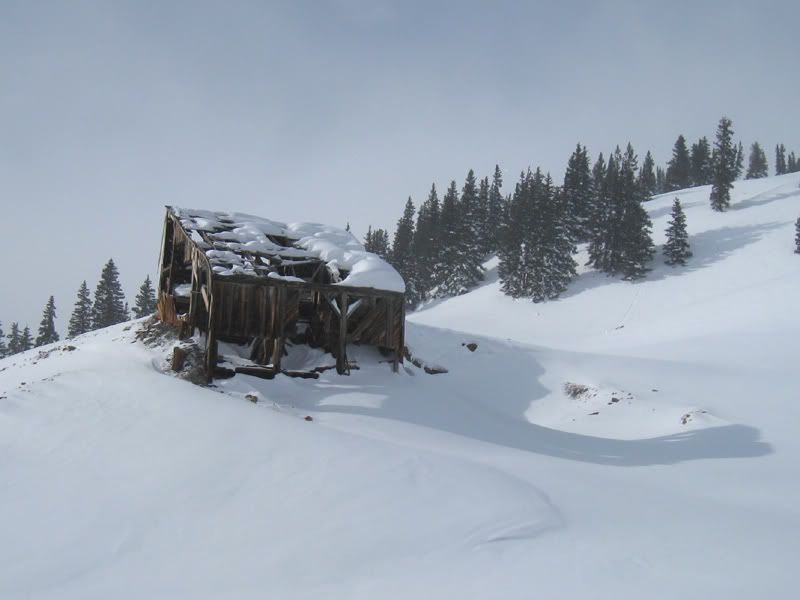 Day 8 & 9: Silverton Mountain - December 15 & 16, 2007
I always wanted to check out Silverton Mountain and now was finally the time. The 20" that fell earlier in the week settled, so we did not have the full on over-the-head powder day, but this were still some great two days.

I met Kya, Blurred, Summit and Adimmen for a maggot weekend.

Blurred started up the day with some hucking:



Summit is pondering some lines:



Adimmen charging: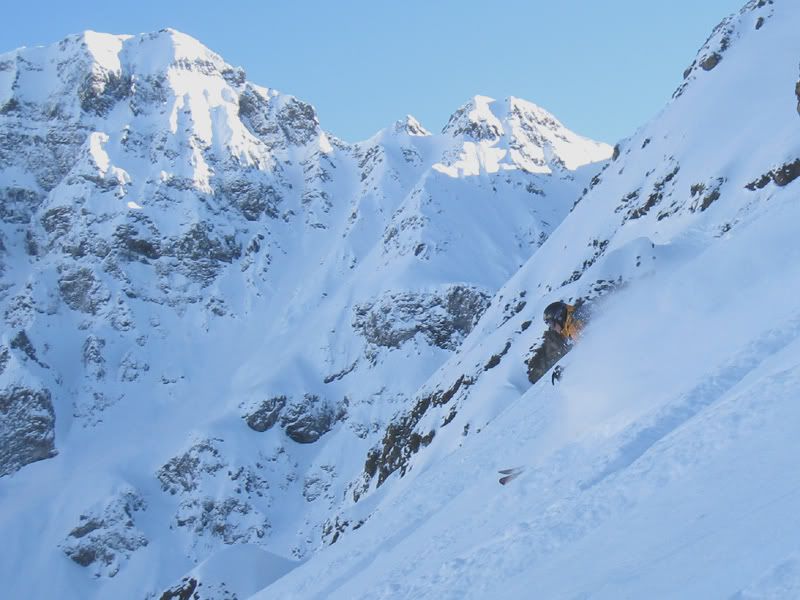 (Maybe Summit has a few more action shots after he sorted out the problems with his laptop)


Day 10: Wolf Creek Pass Backcountry - December 17, 2007
I made a few runs on Wolf Creek Pass. There is some great tree skiing up there.

A scenic one: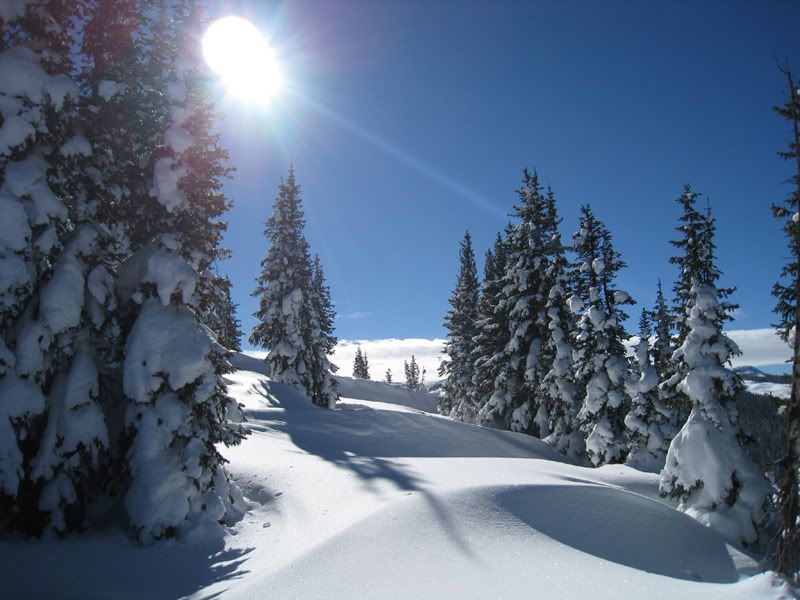 And yes, I believe the snow total they usually report when I look at those trees:




Day 11: Monarch Pass Backcountry - December 18, 2007
I did one run up at Monarch Pass. However the snow was quite wind affected, even in the trees. I had been skiing/riding already for 11 days straight at this point and I figured I pack it up and head back to Denver for a rest day.

Looking west from top of the pass:




Day 12: Rest Day

Day 13: Summit County Backcountry – December 20, 2007
I have tried to hook up with spthomson earlier on the road trip but it never worked out. So finally on this Thursday we met up and went for a tour to Summit County.

Spthomson on the skintrack:



It had not snowed for almost a week, but we were able to find about a nice foot of fresh on some north facing slope.

Yours truly dropping in to get a taste:



Sequence of spthomson:




Day 14: Rest Day

Day 15: Mount Trelease – December 22, 2007
The last day skiing in Colorado was spent with my (former) co-worker TurnEarner. It probably was one of the coldest days in Colorado history or something, but we managed to stay somewhat warm and get some nice turns in near Mount Trelease.

Citadel:



TurnEarner enjoying some nice turns:



These were two memorable last weeks in Colorado and I was sad to leave, but the time came.

The holidays were spent in the Midwest with my wife's family. And no…. we did not go and ride the gnar in northern Illinois and Wisconsin, therefore no pics.


1 week in Zermatt (January 12 – January 19, 2008)
After the flight over the pond to Switzerland and curing out the jetlag and flu for a week we went with my whole family to Zermatt.

My wife was a bit homesick thinking of the US. So what better place then the Valais is there to visit, where you are in the middle of all the amazing mountain scenery. Zermatt has probably not the sickest and steepest (inbounds) ski lines in the world, but the scenery can not be beat. When you are on top of one of the mountains you can see for miles and miles and are surrounded by numerous 4000ers.

We timed it almost perfectly. On the drive up on Saturday (January 12) it was snowing hard and on Sunday we had about 0.50m of fresh and blue skies.

When you wake up, look out the window and see this, you know it's going to be a good day:



My brother enjoying some freshies:



Strahlhorn, Adlerhorn and Findel glacier (from left to right) as seen from the Unterrothorn:



The Breithorn as seen from the Klein Matterhorn: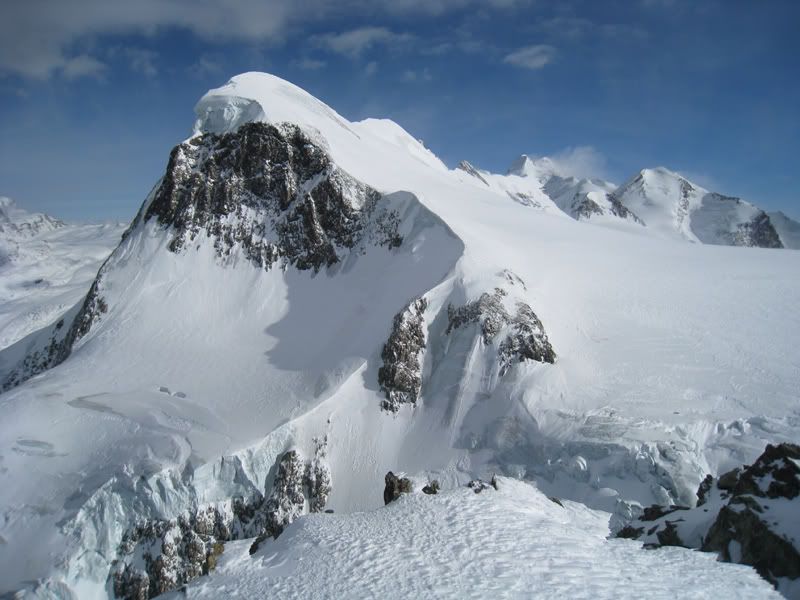 The panorama from the Klein Matterhorn to the west and south is gorgeous:
(some peaks indicated for orientation)



From here we dropped in to the south and went to Cervinia (Italy) to enjoy a pizza. It's nice when you can cross borders on skis or snowboard.

The Matterhorn seen from the south side: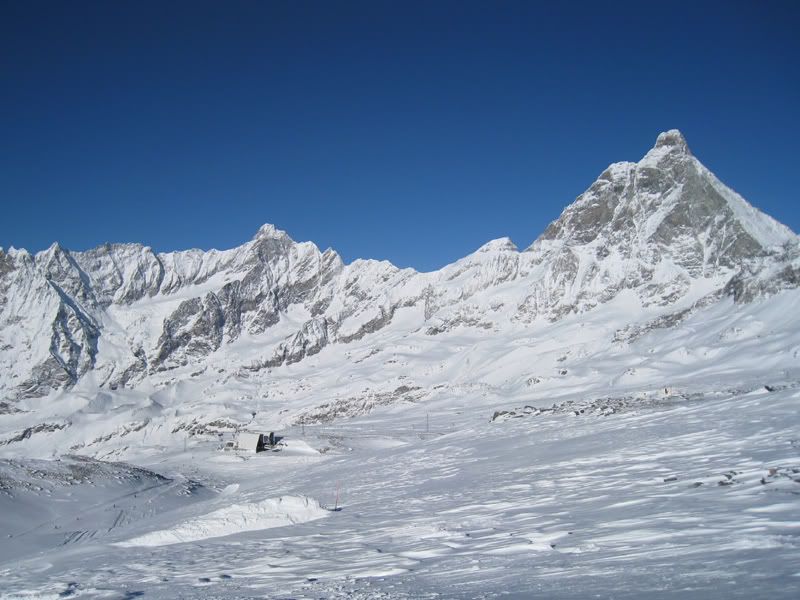 I love Colorado and the outdoors there, but I had to realize again after this week in the Valais: The Alps are just amazing and I am glad I will have plenty of time in the future to explore it again whenever I can.

At the moment we are doing last preparations for our 6-month journey. We will be backpacking in South and Central America. It should be an exciting time!

Internet forum links:
http://www.tetongravity.com/forums/showthread.php?t=109598
http://www.splitboard.com/talk/viewtopic.php?t=4435
http://www.backcountry.ch/index.php?option=com_joomlaboard&Itemid=99&func=view&id=3116&catid=14