Right now we are in Peru, but here are some pictures from Mendoza, Argentina and from northern Chile before we crossed over to Bolivia.

This was our first view of the mountains surrounding Mendoza when we came on the bus from Bariloche. Since we were there during their autumn season, you can see the Alamo (Poplar trees) turning a beautiful golden color. The contrast of colors were amazing!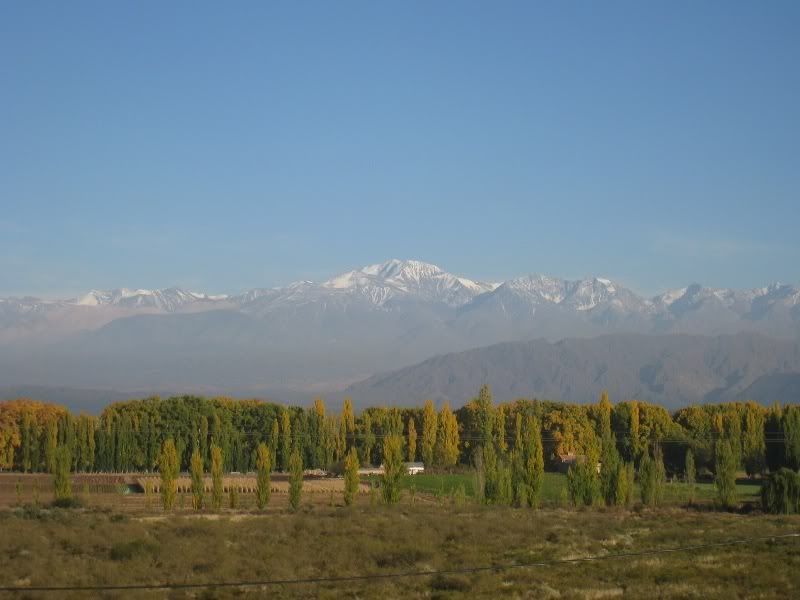 The hostel we stayed in Mendoza was called Hostel Alamo and it is the hostel that Jaya´s best friend, Mona Dizon, opened up with her former boyfriend. The location, staff, and amenities were great. We also had one of the best breakfasts in Argentina. Thanks Mona and Fernando! This is the shot of the courtyard, a great place to chill out or have lunch.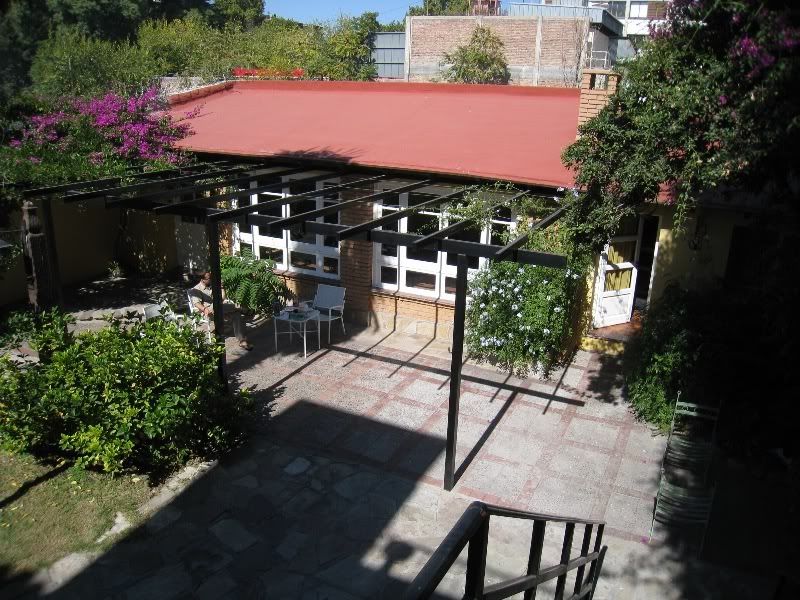 Since Mendoza is the area where Argentina´s finest wines are procuded, we had to do a wine tour but on bikes. The trick is not to "taste" too much wine! The weather that day was perfect and in addition to the vineyards there were a lot of olive orchards.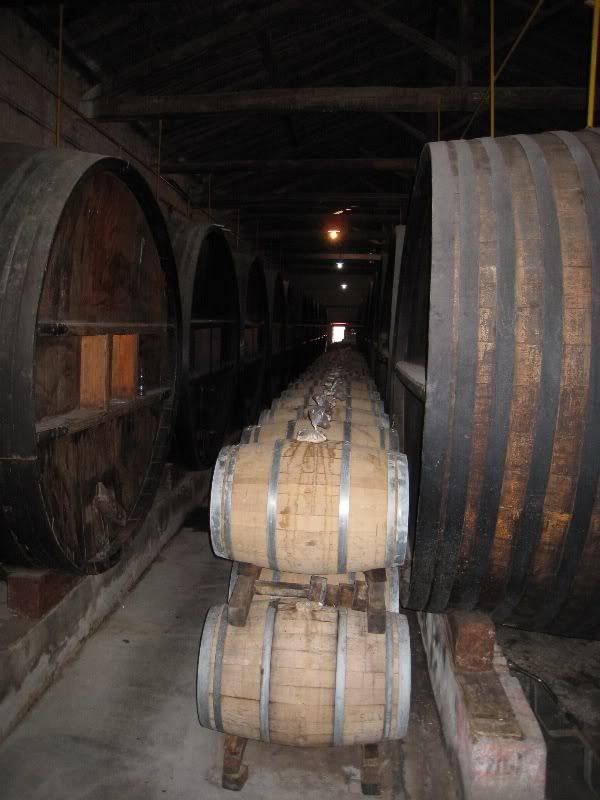 All the olives are handpicked. No, that is not Jaya picking the olives.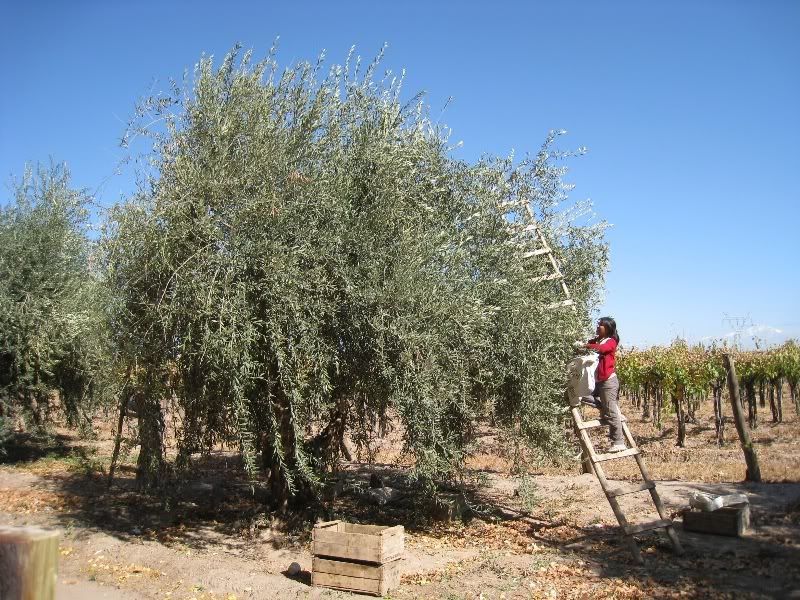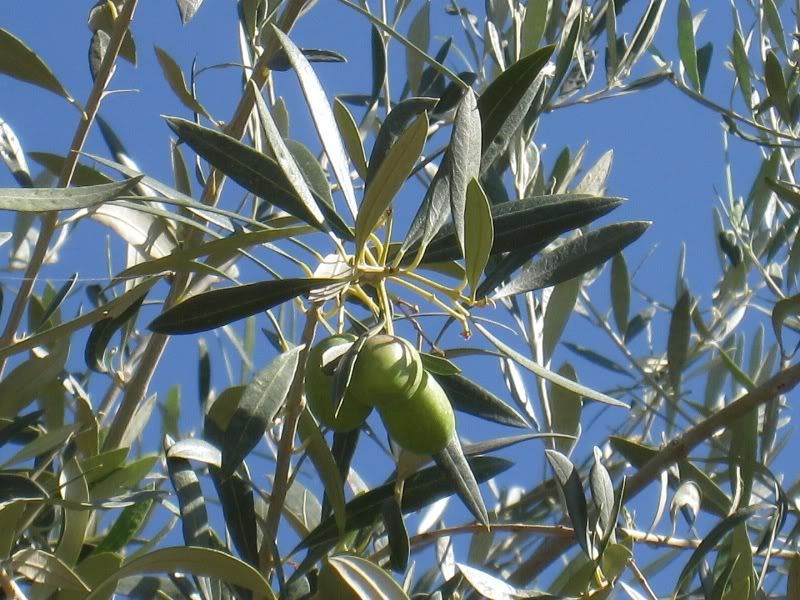 The olive factory we visited.



In the middle of Mendoza we found an oasis of green called Parque San Martin. Since Mendoza has a relatively dry desert climate, all of the tropical trees were transplanted from other parts of the continent.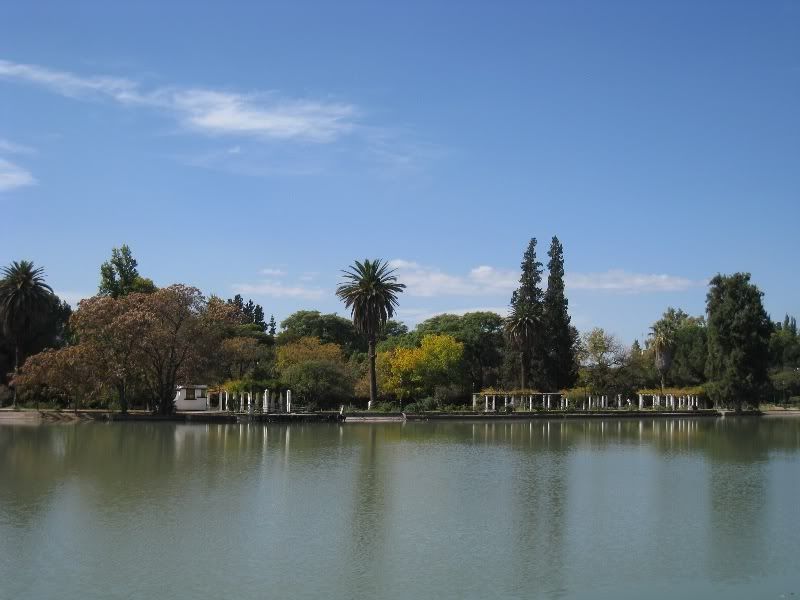 Inside the San Martin Park is located the Hill of the Glory "Cerro de la Gloria" where an enormous sculpture is set in tribute to the Andes Army. This monument stands as a permanent tribute to San Martin, his liberation army, and the magnificent feat which turned Argentina, Chile and Peru into free nations.



At the recommendation of Mona we treated ourselves to a very nice dinner at Azafran. Instead of showing you a wine list, they take you into their wine cellar so you can handpick your own wine!



A view of a lake set amidst a great background of mountains and golden Alamo trees on the way to our horse back ride. (and yes, there are two clouds in the sky :-))



We have wanted to make a horse back riding trip for a long time and we could not pass up the opportunity while in Mendoza. Yes, that is Jaya on the horse.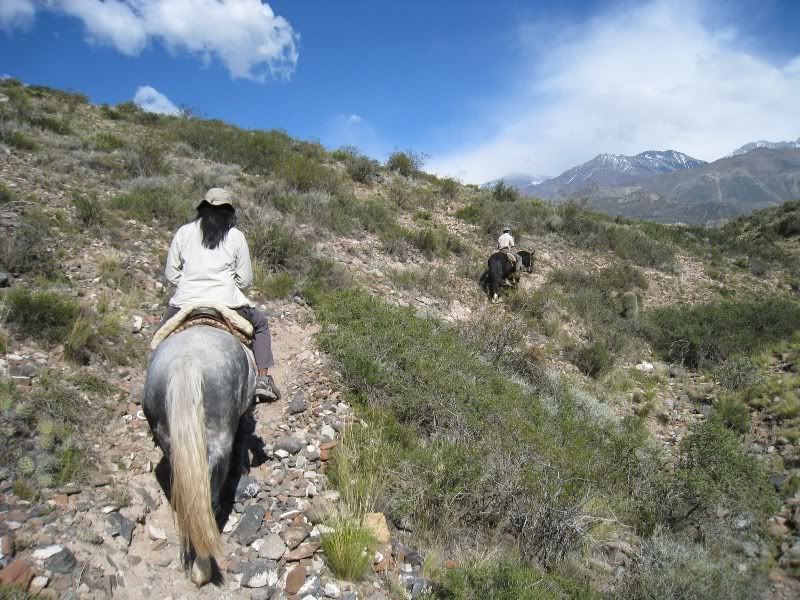 Our gaucho and guide.



A beautiful backdrop and great weather to match.



This was the last picture from this day with Jaya in a happy mood. Her horse lost its footing and fell forward taking Jaya down with it. Jaya got a few bruises on hip and elbow but fortunately both her and the horse are doing fine now.

Our stay in Mendoza was too short and we had to continue our journey. Our next destination was Bolivia, but instead of just flying to La Paz from Mendoza, we took the scenic route through Chile via the Andes.



Here is a somewhat cloudy picture of Cerro Aconcagua as seen from the road to Santiago de Chile. This is the highest mountain in the Americas and the highest mountain outside Asia, measuring in at 6,962 metres (22,841 ft).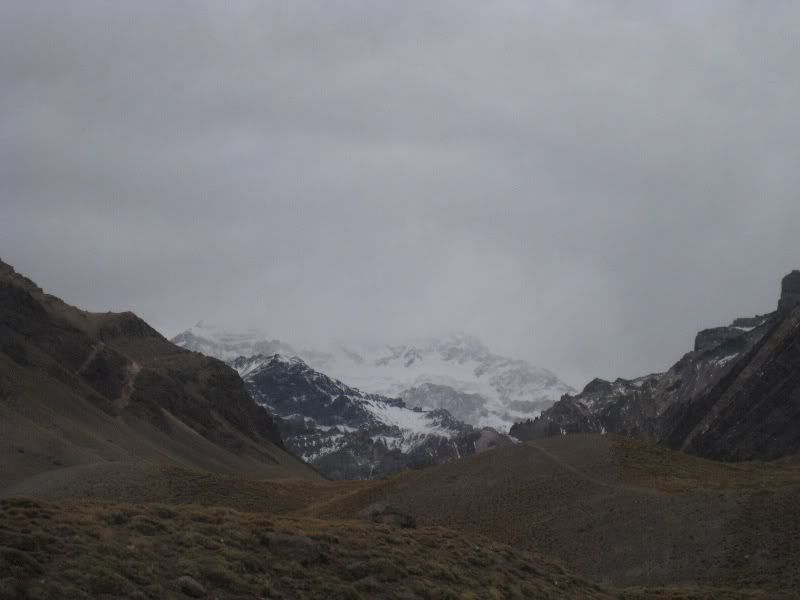 The road through the Andes was breathtaking, but it can also take your breath away. This was one of the scariest parts on the road down!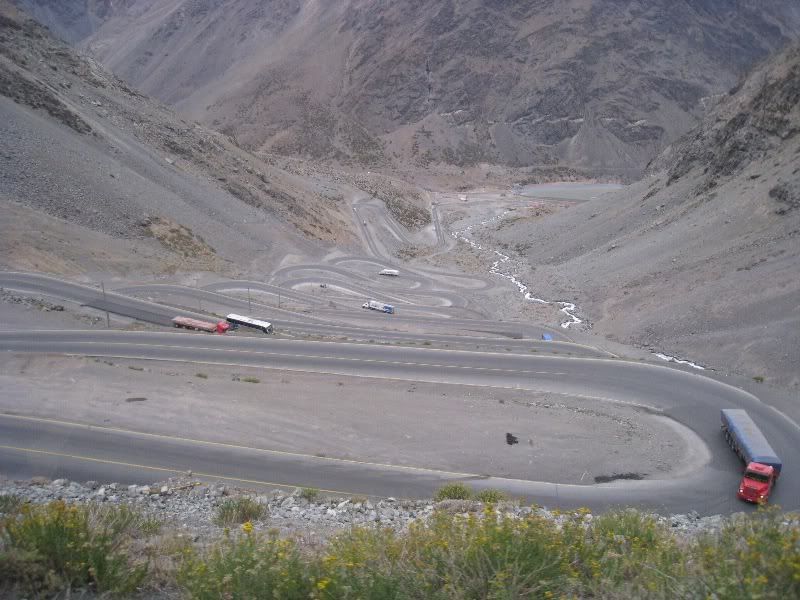 Santiago de Chile is infamous for its smog. The one (and only) positive thing about this is however that it can yield a magnificent sunset. We have never seen such a red sky before.



We took a flight from Santiago to Arica (northern Chile). Most of the area between Santiago and the border to Peru and Bolivia is covered by the Atacama Desert. This is the view from the plane before we landed in Arica. If anyone heard of an earthquake that hit Chile towards the end of March, it was in this general area. (we were there about a month later and did not notice any damages). By the way, flying within South America is so easy compared to the States ! (no hazzles with security lines etc.)



In order to get into Bolivia, we took another scenic bus ride from Arica to La Paz through the Lauca Nationalpark. This is the town of Putre in Chile and you can see the snow-capped volcanoes in the background.



When we landed in Arica we were at sea level and as our bus drive to Bolivia lengthened, so did the altitude! We went from sea level to a mountain pass at 4600 meters and down to La Paz at 3500 meters in a matter of a few hours. Oliver did not take it too well and had a pounding headache for a day.



More snow-capped volcanoes.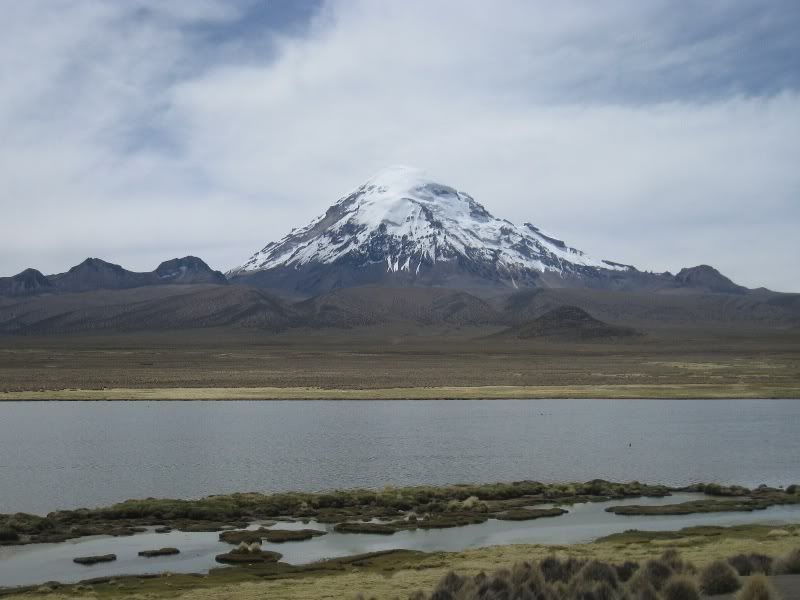 As we approached the Bolivian border control we had a friendly Alpaca greet us at the crossing!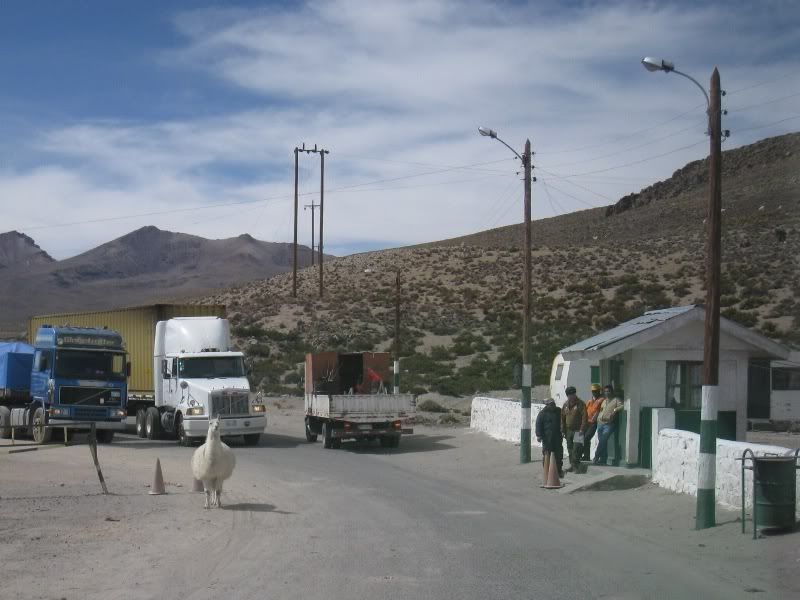 More about Bolivia on our next post!

And here again our route:
Best online maps are found under this link: http://www.maps.live.com or check the simple Google map below. (yellow marker indicates current location and blue is what is covered in the blog)