Hello everyone!! We are currently in Huanchaco, Peru (on the Pacific coast). We were planning on spending a couple of weeks near the beach since we spent quite a bit of time in the mountains (more on that on the next post). Below is our post and pics from when we were in Bolivia. We heard a lot of mixed stories about Bolivia, but we loved it! We were sorry to have spent only 12 days in Bolivia, but it was jam packed with excitement and great food.

This is our first look at La Paz in Bolivia from our bus. La Paz is situated 3,640 meters (11,942 feet) above sea level and since we were just coming from Arica, Chile which was at sea level, we could definitely feel the shift in altitude.



Most of western Bolivia still clings to its indigenous past (Aymarian culture) and we saw many women wearing traditional clothes. Check out the bowler hat! I tried to do some research on why the women wear them and found this on Wikipedia "Bowler hats have been worn by Quechua and Aymara women in Peru and Bolivia since the 1920's when supposedly a shipment of bowler hats was sent from Europe to Bolivia via Peru for use by Europeans who were working on the construction of the railroads. The hats were found to be too small and were distributed to locals." I am not sure how much of the preceding is true, but it is certainly interesting.



Typical mode of transport in Bolivia. One can only imagine how many people are packed inside!



Check out this traffic! Notice that they are all taxis or minivans? We barely saw any private vehicles in La Paz. The people simply can not afford having a car.



Typical market stall in La Paz



One thing that was lacking in our travels in Chile and Argentina was fresh squeezed juice, but we found plenty of it in La Paz (typically oranges or mandarins). A cup of juice cost 1 Boliviano which comes out to 10 cents!! Delicious!!




This next picture is quite interesting. These are shoe shine boys but notice that their faces are completely covered? It is not that cold, but since shoe shining is considered a very lowly job, many of the shiners cover their faces to avoid embarrassment and ridicule.



Ah, the most dangerous road picture. You probably also got once some of those crazy pictures that were sent around via email.
The road was built during the 1930's by Paraguayan prisoners of war and is called the most dangerous road since there were 200-300 deaths a year! Thankfully part of it from La Paz to Coroico is now rebuilt so the ones that mainly use it are crazy downhill bicyclists!



Oh, and here is a picture of one of them. It is Oliver!! To add to the excitement of riding down 56 kilometres (35 miles) of the most dangerous road it, it was raining! See the van in back? That is for bicyclists who get too nervous, get tired, or non-bicyclists who just want to go for a ride (like Jaya) Technically the ride is not very demanding, but the 600 meter vertical drops definitely add some spice to the mix.



I do have to say that although the road was crazy, the views were stunning. This is a look at the Yungas when the morning fog was lifting.


Banana stand in Coroico.



Public transportation is pretty scarce in this part of Bolivia, so some of the trucks take on additional passengers in the back.



In order to get up to Rurrenabaque in the Bolivian jungle we had to take a gruelling, white-knuckling (even Jaya's knuckles turned white!) 14 hour night bus ride from Coroico. Usually it´s just a one lane road with just a few pullouts so two cars can cross.



This was a typical view down from our bus window. The first 2 hours of the road from Coroico were extremely scary. You are pretty much soiling your pants when you look down a vertical wall of up to 600 meters and your bus's wheel is just about 30cm away from it.
When we took this picture we felt actually already a bit better since the drop was only about 50 meters. At this point we felt like we have at least a slight chance of survival compared with tumbling down 600 meters. (But chances still would be slim.)



And to make matters worse, our bus had a mechanical failure! Thank goodness it was not on the side of the mountain when it happened.



We did not get any sleep on the bus ride so a snooze in the hammock when we got to our hotel in Rurrenabaque was definitely in order.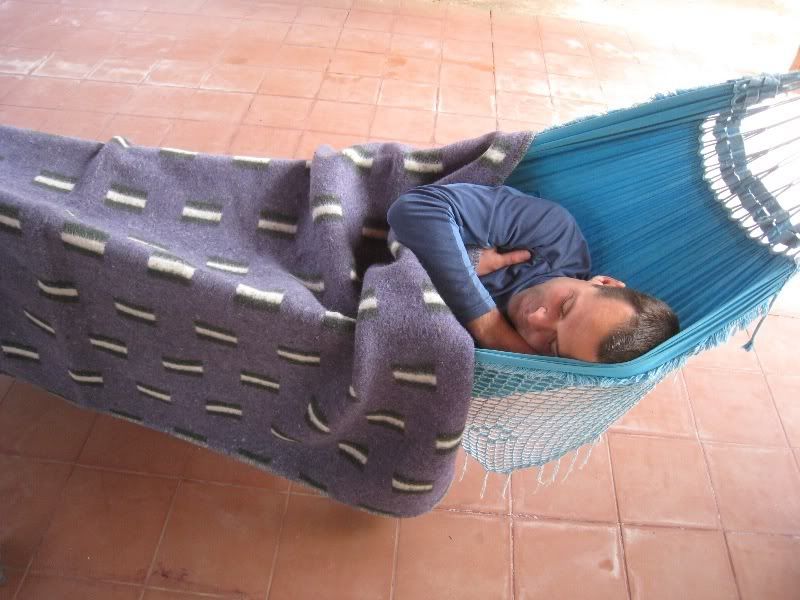 The next day we went for a pampas tour.
Flat tires and such are pretty common on that road. Especially with the conditions the tires have in Bolivia. They run them until they are completely bald.



This is the restaurant where we stopped for lunch. Instead of a dog they have a pig (black-lipped peccary) as pet. It cleans up all the little things that drop from the tables.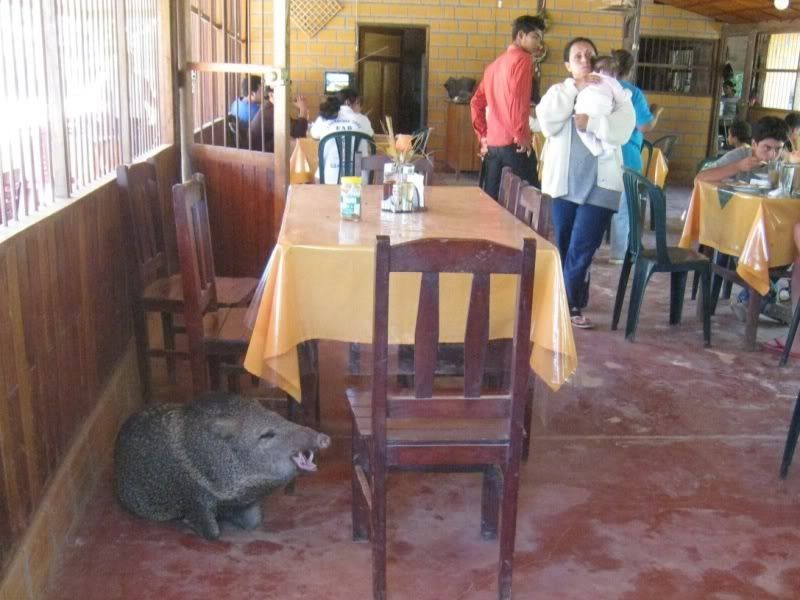 The pampas is grassy lowland with some bushes and a few single trees. This is a typical scene.



Only mean of transport is the boat. We had a good crew with a local boat rider and a German, Austrian, Israeli, a Polish guy and two Australians.



A caiman catching some sun.



This is a capybara. It is the biggest living rodent on earth.



A cute little chichilo (squirrel) monkey we saw on the way.



There are tons of birds to see.



This one is drying his feather in the sun after he is done fishing for the day.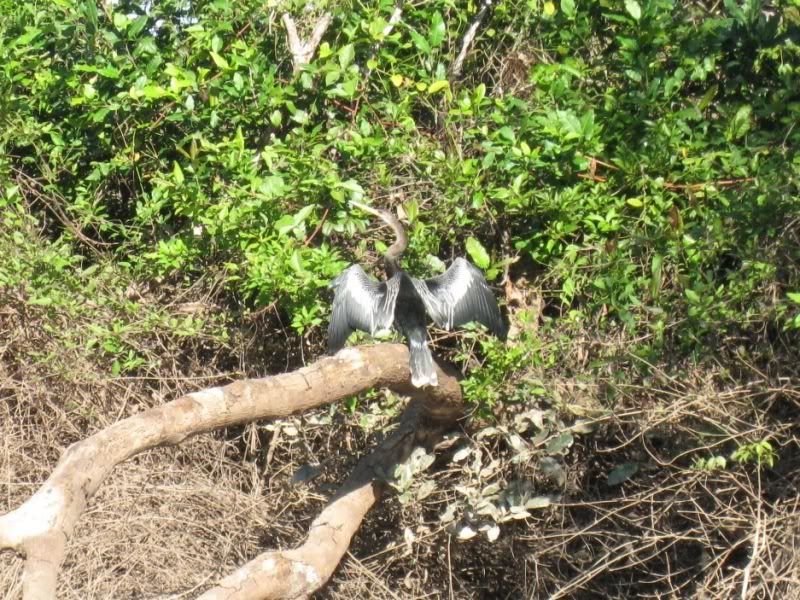 Our camp in the pampas. There are some hammocks to hang out. But luckily we had some real mattresses to sleep on since as romantic as it sounds; sleeping in hammocks for two full nights is not that comfortable.



The daughter of our camp host



A paradise bird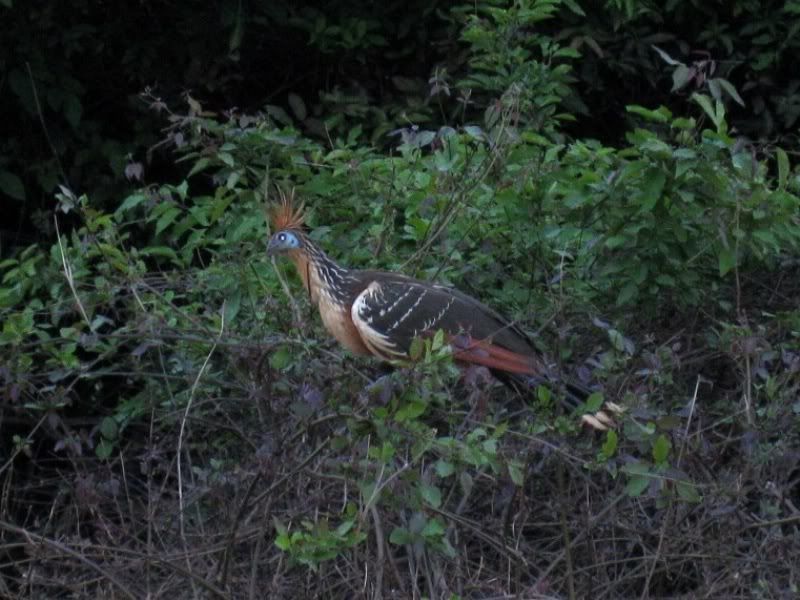 Another great sunset



The next day we went searching for snakes. You slog with big rubber boots through some swampy ground until you find one. Jaya did not for one second enjoy the thought of just being surprised by a snake.



We were quite lucky that day and found a cobra and anaconda. This is the anaconda.



This was a pretty small one and you did not have to be afraid of being strangled.



We also went swimming with the dolphins. Here you see our Austrian friend and on the right margin of the picture a dolphin is just catching some air.
When you are swimming near the dolphins you are supposedly save from caimans and alligators, but sometimes I was still a bit nervous.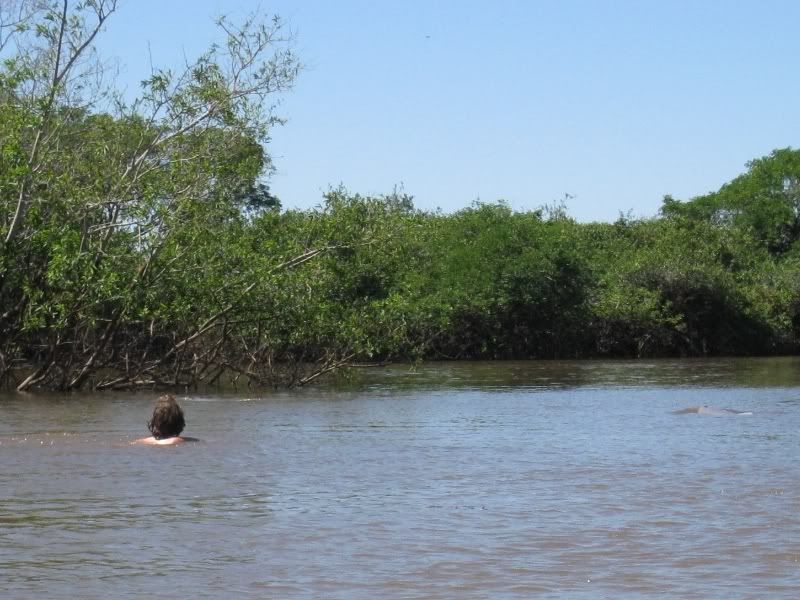 The fresh water dolphins are a bit different from the ocean dolphins. They have a long nose.



A family of turtles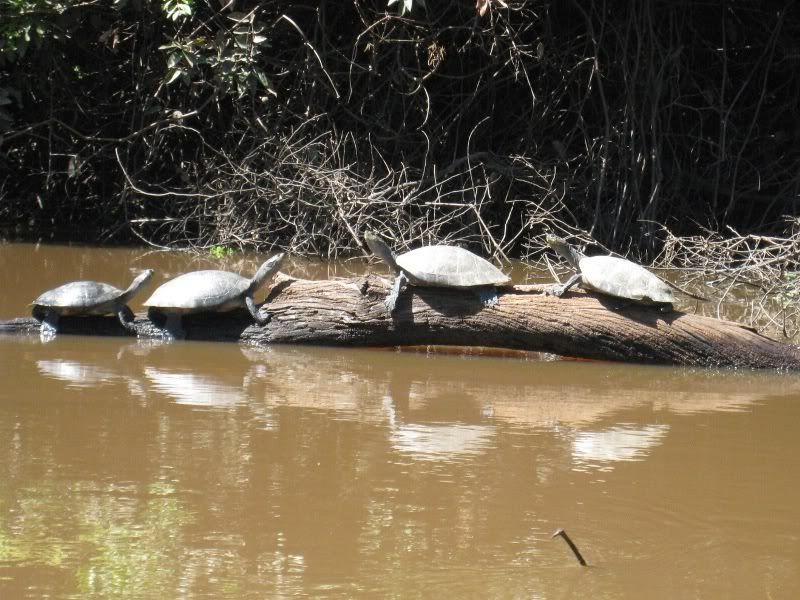 We also went for piranha fishing. It's not that demanding. You just need a line, a hook and a piece of meat and they will come in masses. The only problem is that you have to be pretty quick before they nipple away all your bait.



They are not very big fish and are quite bony, but you just have to catch a bunch so it makes for a good lunch.



Jaya and I grilled it over the fire and the rest were fried up in the pan.



The mode of transport is quite basic in Bolivia. You will see lots of horses, donkeys and ox carts.



After the pampas tour we went for a jungle trip to the Chalalan Ecolodge.
This Lodge is run by the indigenous community and all the proceeds are invested for a good cause.



At the beginning we made our way through some thick fog. Here are some locals trying to find their way on the river as well.



Later on the fog lifted and we enjoyed a nice sunny day.



The river is sometimes really low and therefore one guy checks in the front with a stick how deep the water is and warns the captain when he has to pull up the engine to avoid damage to the rotor.



Some locals making their way upstream.



Our cabins in the rainforest of the Madidi Nationalpark.



This Ecolodge is located next to the Chalalan Lagoon.



You can take a boat and cruise around looking for caimans, monkeys, birds and turtles.



One of the moriche palms on the shore



We went for several hikes in the rain forest to look for animals and plants.



There is an animal hidden here. Can you find it?
(pretty well camouflaged this frog, isn't it?)



We were actually really lucky and found besides monkeys and lots of birds also an oscelot and tayra (large member of the weasel family). However taking pictures in the rain forest can be quite a challenge, especially with our little point-and-shoot camera.
Here we found even a horde of wild pigs. The only thing you really can see in the picture are the orange eyes though in the centre of the picture.



Instead of the torturous bus we took to get to Rurrenabaque, we opted to take a short 1 hour flight in a little airplane back to La Paz.



From La Paz we took the bus to the border to Peru. After about a 10 minute ride our cabin starting filling with smoke and we had to stop.



It was too bad for this guy's backpack that it got loaded next to the exhaust pipe and it burnt quite a hole in his bag. Yes, you have to be prepared for quite some surprises when you are travelling in Bolivia!



View towards the Andes on our bus trip on the altiplano towards the border.



We already mentioned that lots of women still wear the traditional clothes. It's really cool when you walk around in the crowds. Sometimes you feel like you are on a movie set. Here I just took some random crowd shots on our walk across the border from Desaguadero, Bolivia into Peru.



Everything is very low tech in most parts of Bolivia (and also Peru). Pretty much all the agriculture work is done by hand. Here the grains are put up to dry. This picture is taken on the bus ride along Lake Titicaca.



The community is harvesting the potatoes. (Sorry, most of the pictures are a bit blurry since they are shot out of the moving bus)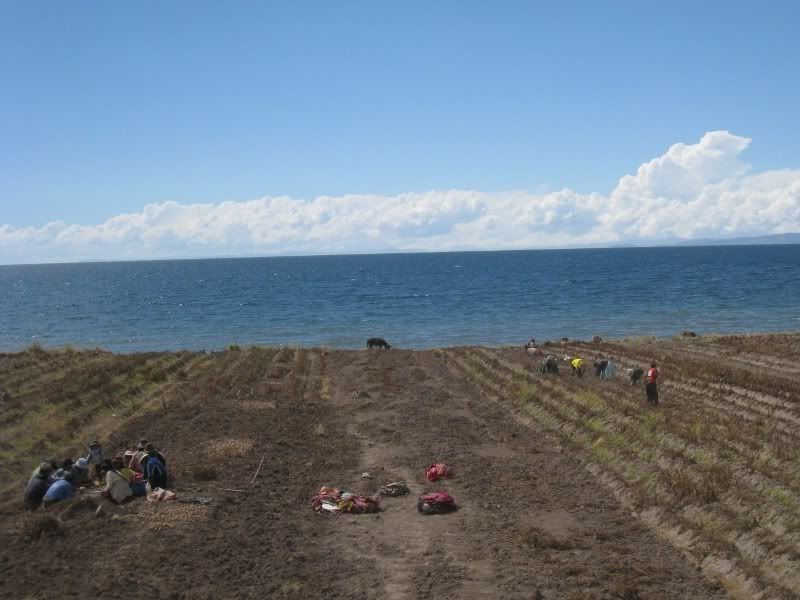 Taking a break from the hard work.



The squares in the water are some trout farms.




And here again our route:
(We are currently debating how to finish our trip. Flight out is from Belize, but we do not think that we can do all the Central American countries we planned on first. Still trying to figure things out, so please stay tuned.)
Best online maps are found under this link: http://www.maps.live.com or check the simple Google map below. (yellow marker indicates current location and blue is what is covered in the blog)