Pawnee Peak 12,943ft – South Couloirs
Brainard Lake Area (Indian Peaks Wilderness)

Riders: Dave, Oliver

I met up with Dave for a bit more June riding in the Indian Peaks Wilderness.
We brought the bikes along since we were not sure how far the roads were open.

The road around Brainard lake was actually open all the way, but the last few hundred yards of road to the actual trailhead was closed. So we decided to pedal that part. It's always fun to ride your bike with skis/snowboard on your back isn't it? At least the tourists thought so when we came back later in the afternoon.

After stashing our bikes we made quick progress hiking on dirt/snow along Long Lake up to Lake Isabelle. We had a solid freeze on Friday night, so post holing was not a problem (even the way out was pretty easy again).

Lake Isabelle and a stunning view of the continental divide with Navajo and Apache:
(click to enlarge)



Close-up of Apache couloir and Queens way:



From there we headed north towards Pawnee, more or less following the summer trail.
Dave putting in the stairs:



Brainard Lake, Long Lake, Left Hand reservoir:



Nice views on the summit.
Navajo and Apache in the west:



Lake Granby to the north west:



Dave soaking in the views:



Mount Toll to the north - quite a popular spring/summer ski route.



Mount Audubon looks a little dry:



There are several south facing couloirs on Pawnee. We chose one a little more east than the most obvious two, since it looked more interesting.
It's has a 55 degrees entrance before it starts easing and some interesting rock features to navigate around.

Dave getting ready at the top:



Looking down:



Dave Dropping in:



Oliver on the steep top part:



Dave surveying the scene after the first few turns:



Top third of the couli:



Navigating around some rocks was required:



IridePow enjoying some great lower turns:



The first line from the bottom:



After that first drop we decided to traverse over and hike up a few hundred vertical feet again, instead of just letting it run down to the lake. There was another good couloir we saw on the way up.

This would have been the most obvious line a little east from the summit:
(as seen above our traverse to the next objective)



On top of our next line:



Dave showing off the tele steeze:



Bottom of line 2: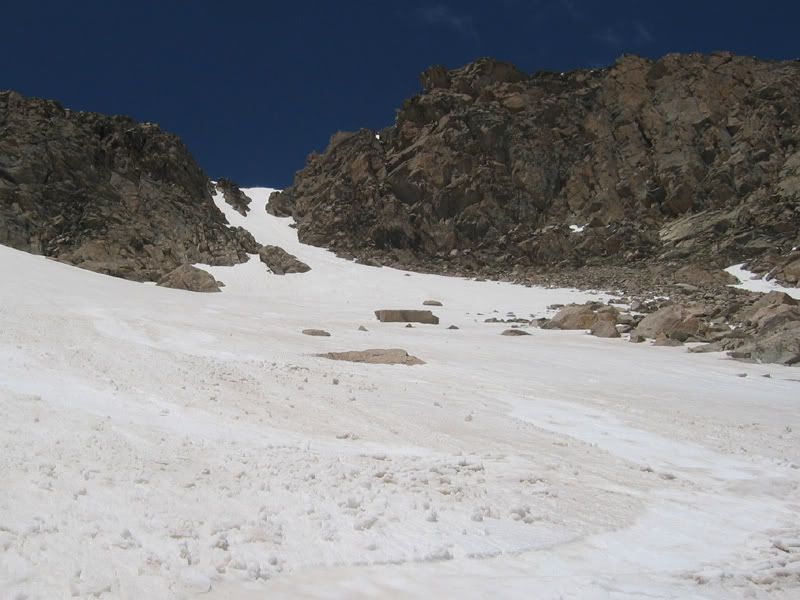 The two couloirs we did:



From another angle:



On the way out we had to bring the "grass boards" out for a short section:



We could ride a bit past Lake Isabelle before we had to start hiking out again for a 7 hour car to car time.

Good by Brainard lake and Mount Audubon:



Internet forums TR's:
http://www.tetongravity.com/forums/showthread.php?t=87454
http://www.splitboard.com/talk/viewtopic.php?t=3732