South Arapaho Peak (13,397ft), Indian Peaks Wilderness
West Couloir - 5/19/2007
Hippy_Prophet, Dave, IridePow


Hippy_Prophet sent me an email on Thursday to make some plans for the weekend. Several ideas were tossed around, but then Dave came up with a great idea in the Indian Peaks Wilderness.
This area is basically his backyard and he spied a nice line two years ago. The only thing I knew was, that it is something steep, west facing.... and that in his 20 years backcountry skiing he never heard of or seen anybody skiing this line.
Sounded interesting to me!

We started from the 4th of July Trailhead and went up the Arapaho Pass Trail.

Hippy_Prophet:



Dave:



We went past the skywalker couloir:



We were not super confident that the line will go. It seemed to have less snow in that area than other years.
That's why we opted to take a closer look from the bottom instead of climbing South Arapaho Peak via the East Ridge.

So Dave where is this line???



Did not look as promising as the picture from 2 years ago (Mid May 2005).
Taken from the peak west of South Arapaho Peak.



A little bummed due to the lack of snow, but still eager to drop this line we decided to climb up the couloir to check out if it will go.



Dave climbing: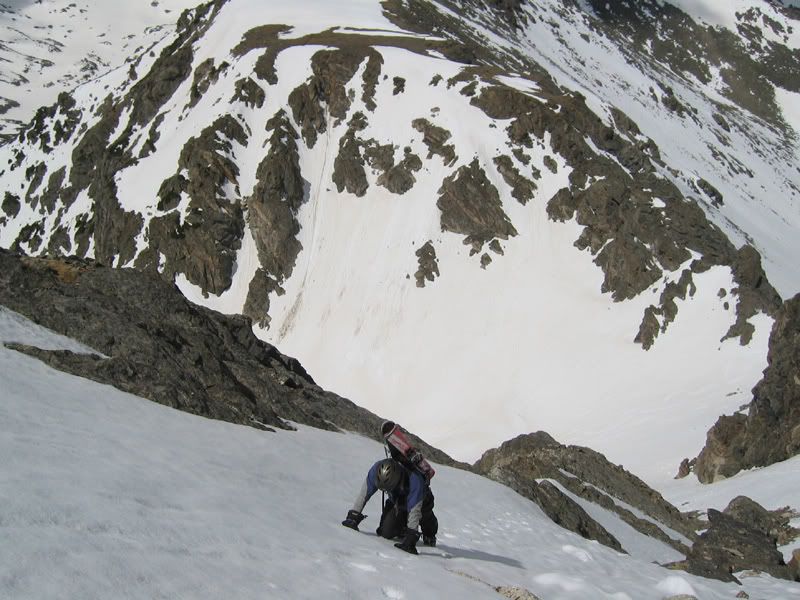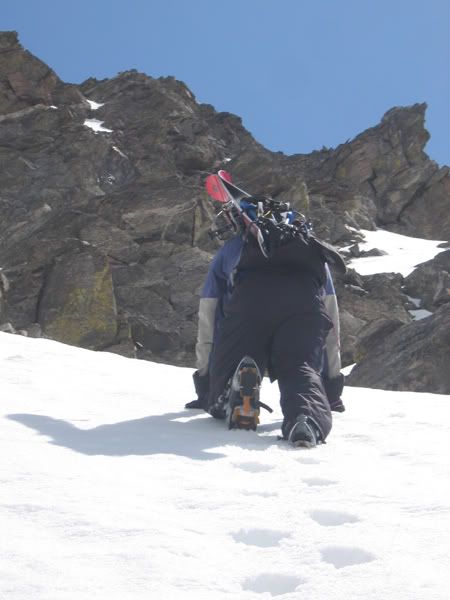 IridePow:



About half way up we were psyched to find out that the line will go. There was definitely less snow than in 2005 when Dave took that picture. But besides two or three tricky parts where we would have to navigate through some rocks we definitely would have an epic ride in front of us!

Hippy_Prophet:



On the Summit:



Hey little guy what's up?



Hippy_Prophet making some friends:



Mount Neva in the west:



Another scenic shot:



We could start right from the summit, but had to take the skis/splitboard off for a few steps to get into the couloir. On a good snow year you definitely can ski it right from the top.

Looking down our line:



Dave dropping in:



Hippy_Prophet pointing it:



Dave enjoying the middle part:



First rocks to navigate around (about half way down):



Lower part of the couloir:



Below the half way mark:



The free heelers going for the style points:



Another few rocks at the bottom:



Hippy_Prophet milking the last few turns in the apron:



Done with the 1600ft couloir.
Steepness varied from 40 to 45 degrees. Maybe a few degrees steeper on top.
There were still another 400ft skiing before we had to start hiking back to the trailhead.



The line we skied:
(picture from mid May 2005)



Thanks Dave for this great suggestion.
It was a blast to hit this line!
Good variety of snow climbing, technical riding and route finding.

Internet forum Tr's:
http://www.tetongravity.com/forums/showthread.php?t=85807
http://www.splitboard.com/talk/viewtopic.php?t=3690